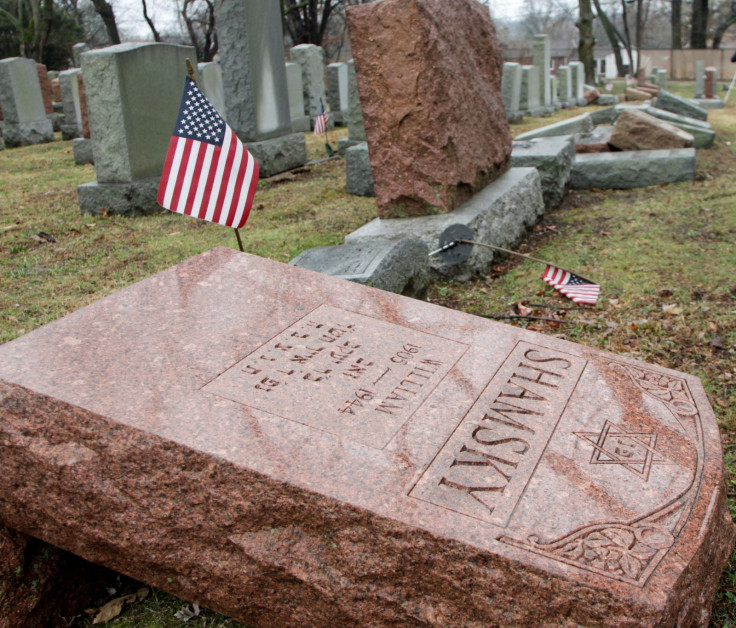 Dozens of headstones at a Jewish cemetery in Philadelphia, Pennsylvania, were vandalised over the weekend. Philadelphia Police Department Detective Jim McReynolds said around 100 headstones at Mount Carmel Cemetery were found knocked over Sunday (26 February).
Police were alerted to the destruction when someone visiting the cemetery called authorities to report toppled headstones. Aaron Mallin of North Jersey told ABC6 that he visited his father's grave Sunday morning and found the damage. "It's just very disheartening that such a thing would take place," Mallin said.
McReynolds said police are investigating the incident as a case of vandalism. "It's pretty much intentional," the detective told The Washington Post. "We just have to find out if it's drunken kids, or an act of - well, it is a predominantly Jewish cemetery, so we have to look into that fact."
Northeast Detectives Captain Shawn Thursh added to Philly News: "It's criminal. This is beyond vandalism. It's beyond belief."
Police said that it appears the headstones were knocked over after dark on Saturday (25 February) and some were broken. According to the Post, authorities do not have any surveillance footage or leads as to who may be involved.
The Anti-Defamation League has offered a $10,000 (£8,000) reward for information leading to the arrest of those who committed the attack. "We are appalled to see the desecration of another Jewish cemetery. These attacks need to end now," the organisation said on Twitter.
The incident, which comes less than a week after a similar incident at a Jewish cemetery in St Louis, Missouri, caught the attention of the Israeli foreign ministry. Spokesman Emmanuel Nahshon called the report "shocking and a source of worry," according to the Associated Press. Nahshon added he had "full confidence" that US authorities would catch and punish the perpetrators.
Two Muslim Americans Have raised funds online to help pay for repairs at Chesed Shel Emeth Cemetery in Missouri. According to the Post, more than $130,000 had been raised in less than a week. The organisers of the campaign have reached out to Mount Carmel to offer funds to pay for repairs.