FBI director James Comey has become embroiled in the election showdown after he wrote a letter to Congress informing them of an extended investigation into new "pertinent" emails found on Hillary Clinton's server. With less than two weeks to go before the elections, both Donald Trump and Clinton have demanded that the chief put all of his findings on the table.
However, sources are now claiming that Comey could not have known what was in the emails when he wrote to Congress since the FBI was still waiting for the search warrant to open and read them. One of the three government officials who spoke to Yahoo News said that the director "had no idea what was in the content of the emails".
"We do not have a warrant," a senior law enforcement official said on Saturday (29 October). "Discussions are under way [between the FBI and the Justice Department] to [decide] the best way to move forward."
The new collection of emails were found on the laptop of former US Representative Anthony Weiner, the estranged husband of top Clinton aide Huma Abedin, who is currently under investigation for allegedly sending illicit text messages to a 15-year-old girl.
Despite recommendations from the Justice Department not to send his letter to Congress, Comey proceeded. "We don't ordinarily tell Congress about ongoing investigations, but here I feel an obligation to do so given that I testified repeatedly in recent months that our investigation was completed," he explained on his actions. "I also think it would be misleading to the American people were we not to supplement the record."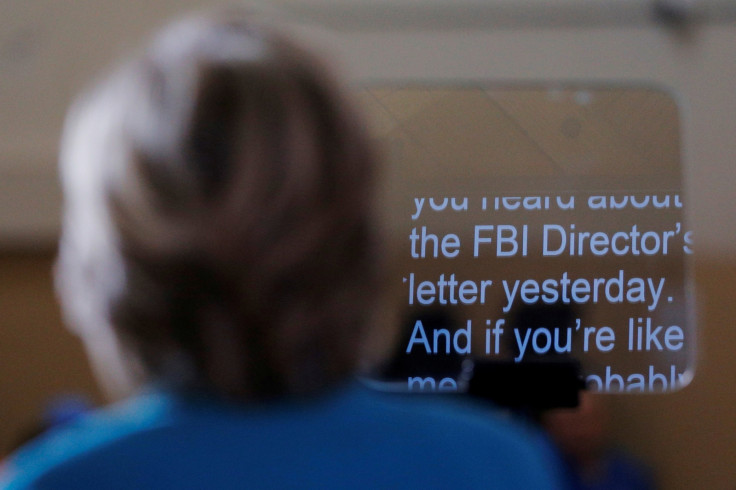 Attorney General Loretta Lynch and Deputy Attorney General Sally Yates reportedly objected to his move, stating that it was against the department's policy to comment on investigations close to an election.
"This letter is troubling because it is vaguely worded and leaves so many questions unanswered," Senator Patrick Leahy, the ranking Democrat on the Senate Judiciary Committee, and three other Democrats on the panel stated in a letter to Comey and Lynch.
"It is not clear whether the emails identified by the FBI are even in the custody of the FBI, whether any of the emails have already been reviewed, whether Secretary Clinton sent or received them, or whether they even have any significance to the FBI's previous investigation," the senators wrote.
Following the Congress letter, the Democratic presidential candidate challenged Comey to "immediately" reveal the "full and complete facts" of his "deeply troubling" statements.