An Indian Catholic priest who was feared kidnapped by Isis terrorists in Yemen could be crucified on Good Friday, religious groups have claimed. Father Tom Uzhunnalil was reportedly taken by gunmen when they attacked an old age home on 4 March, killing four Catholic nuns and 11 other people.
While no one has officially claimed responsibility for the kidnapping, a religious group based in South Africa claimed on 20 March that they received information that Father Uzhunnalil was being tortured under capture. The Franciscan Sisters of Siessen also noted that he was going to be crucified on Good Friday.
Writing on their Facebook page, the Christian group said: "Was informed that the Salesian priest, Father Tom who was kidnapped from the Missionaries of Charity Home in Yemen is being tortured and is going to be crucified on Good Friday. This calls for serious concerted prayers from all of us."
More than 115,000 people have shared the post, with thousands commenting about the priest's safety. However, the post has since been deleted and the Facebook page has been deleted.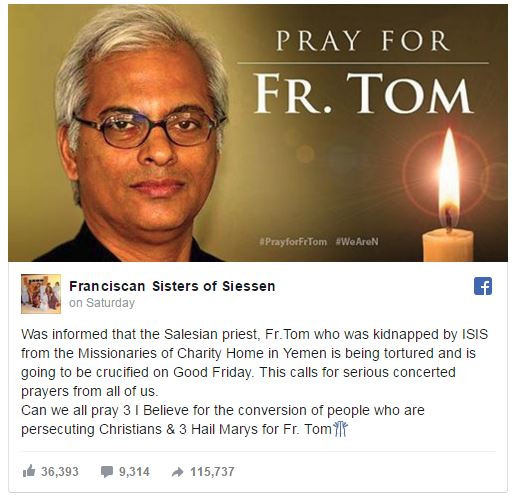 Members of Father Uzhunnalil's church dismissed the concerns as "rumours", saying that they had no information about his whereabouts or health. Father Mathew Valarkot confirmed that no one had claimed responsibility for the kidnapping so far.
Valarkot told Catholic news source UCANews: "We have absolutely no information. Even today we do not know who has taken him and what their motives are...because no one has claimed responsibility. These are all rumours."
Yemeni authorities have blamed Isis for the incident that took place at the old age home on 4 March in the southern city of Aden. Four gunmen reportedly posed as relatives of one of the guests and then burst inside, killing four Indian nuns, two Yemeni staff members, eight elderly residents, and a guard.
A Yemeni security official said: "According to our information, the extremists who attacked the elderly care home in Aden have kidnapped priest Tom Uzhunnalil, a 56-year-old Indian, who was taken to an unknown location."
Father Uzhunnalil's church is said to be in constant touch with the Indian government about his whereabouts. Father Joseph Chinnayan, deputy secretary general of the Indian Catholic bishops' conference, said that the Foreign Ministery had "stepped up efforts to locate the priest".