Fedora 21, albeit late, is now available for download in its last important beta version, before the stable release comes out. Fedora 21 beta is available to download officially.
Fedora 21 beta brings with it a host of new enhancements and features.
What's New?
This time around, the latest Fedora beta release comes in three different variants viz Cloud, Server and Workstation versions.
Users downloading Fedora 21 will also notice the latest GNOME desktop, the GNOME 3.14 that was released as recently as September 2014.
GNOME 3.14 desktop brings an entirely new feature set, such as Integration of Picasaweb and DLNA media server support in GNOME Photos.
A new game called Hitori (similar to Sudoku) is also incorporated within the new GNOME desktop.
Variant-wise functionality set
Fedora 21 Cloud:
Cloud now includes images for use in private cloud environments like OpenStack
Application Management Interfaces (AMI), to use in Amazon
New image streamlined for running Docker containers.
Modular Kernel Packaging: Fedora's kernel is now divided into two groups, one of which contains the basic set of modules, for operating in a virtualised environment. The other group contains the more advanced modules set for general installation.
Fedora Atomic Host: Fedora 21 release will be the first to offer an "Atomic" host for Fedora, which includes a minimal set of packages and an image composed with rpm-ostree.
While using the same RPMs as other Fedora offerings, the Atomic host will allow users to roll back updates (if necessary) as one atomic unit — making update management much easier.
Fedora 21 Server:
Three new tools are introduced this time around:
Rolekit tool: A role deployment and management toolkit that provides a consistent interface to administrators to install and configure all the packages needed to implement a specific server role.
Cockpit tool: Accessible remotely, Cockpit acts as a user-interface (UI) to help in configuring and monitoring servers.
OpenLMI: a remote management system built atop DMTF-CIM. It can be used for scripting management functions across many machines as well as querying for capabilities and monitoring for system events.
Domain Controller Service: Domain Controller Service packages up the freeIPA integrated Identity and Authentication solution for Linux/UNIX networked environments. A FreeIPA server provides centralised authentication, authorisation and account information by storing data about user, groups, hosts and other objects necessary to manage the security aspects of a network of computers.
Fedora 21 Workstation:
GNOME 3.14: As explained at the beginning of the article, GNOME 3.14 desktop features a brand new functionality set.
Wayland Technology Preview: Fedora 21 beta incorporated within it, a Wayland Technology Preview (Wayland is a protocol for a compositor to talk to its clients as well as a C library implementation of that protocol), by default.
DefaultDevAssiatant: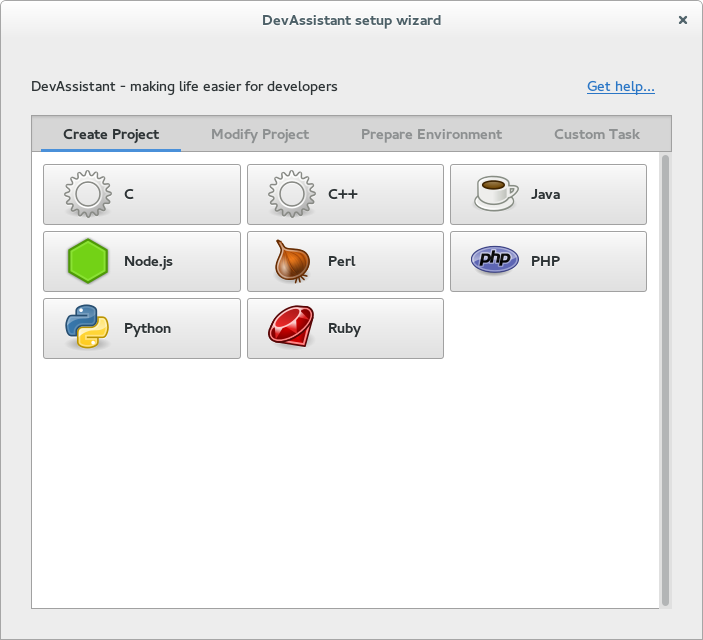 DevAssistant helps developers set up environments for their projects, so they can code effectively.
Stable release of Fedora 21 will be outed on 9 December, and if you discover bugs in the current beta version, then do report directly. Click here to file a bug report.
Also, be informed, that Fedora Workstation is compatible with ARM CPU architecture as well.