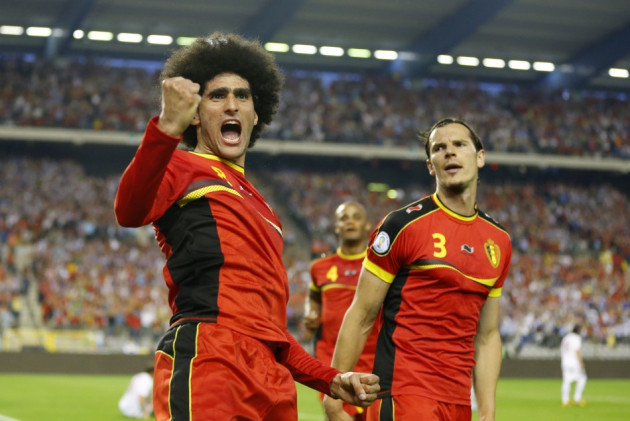 Marouane Fellaini would reject a move to Arsenal in favour of Manchester United if both clubs decide to make an offer for the Everton midfielder this summer.
The sides are said to be considering an offer and are aware that they can sign the commanding central midfielder for £23.5m. However, the release clause expires mid-way through August and neither club has yet to make an offer.
Arsenal and United are both pursuing other targets but it is believed that could eventually turn their attention to Fellaini who has been consistently linked with a move to the Emirates for some time.
Manchester United are currently bidding to sign Cesc Fabregas from Barcelona but new manager David Moyes is reportedly interested in signing Fellaini for a second time, having previously brought him to Everton from Standard Liege.
The Evening Standard claims that Fellaini has his heart set on a move to Old Trafford and is hoping that Moyes will make an offer this summer, having already seen United submit a bid for teammate Leighton Baines.
Moyes certainly appears to be looking to make his mark at United, having already appointed a number of his former Everton colleagues in coaching positions, and giving the go ahead for the pursuit of Fabregas.
Fellaini has publically stated that he is looking forward to working with new Everton boss Roberto Martinez but his loyalty may well be tested if Arsenal or United come in with an offer in the coming weeks.
However, should it only be Arsenal that trigger his release clause then it will be interesting to see whether the Belgium international would consider leaving Goodison Park in favour of a side competing in the Champions League.
The Gunners are currently attempting to persuade Liverpool to part with Luis Suarez and should a deal be concluded then it is liklely that they would still have enough money to bid for Fellaini as Arsene Wenger is believed to have a £70m transfer budget this summer.