Former Everton midfielder Peter Reid fears the club could be incapable of keeping Leighton Baines and Marouane Fellaini from joining Manchester United upon David Moyes' appointment as successor to Sir Alex Ferguson.
Moyes will take charge of The Toffees' final two games of the season before moving to Old Trafford to succeed Ferguson after signing a six-year deal with the 20-time league champions.
Reports suggest that both Baines and Fellaini will be among Moyes' targets in the summer transfer window as the 50 year old looks to ring the changes ahead of his maiden United campaign and Reid concedes that Everton stand little chance of retaining the pair.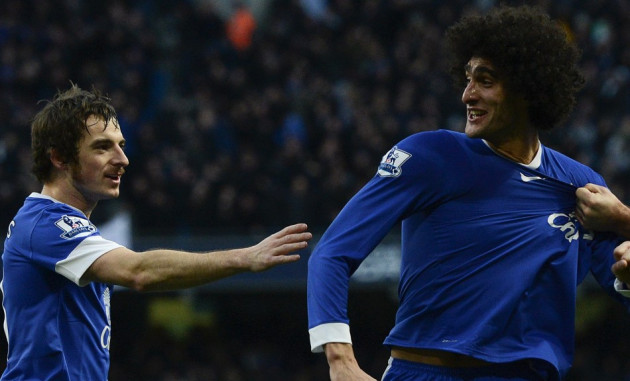 "Manchester United, when David was manager, came and got Wayne Rooney when he was a young boy and who is obviously a fantastic player, so that's just the way it is," Reid admitted. "That's the nature of football.
"Manchester United lost Ronaldo a few years ago, so every football club has got that problem. If a big club is coming in for your best players sometimes it's really difficult. It's up to the players.
"Since the bosman rule came in players are assets in the business and if you keep them too long you lose the monetary value on them so you've just got to get your business head on. It's unfortunate but that's the way of the world."
Both Baines and Fellaini have played vital roles in Moyes' success at Goodison Park.
Since joining from Wigan Athletic in 2007, Baines has formed a reputation as one of the Premier League finest full-backs both defensively and going forward, having scored 19 goals across the past three campaigns while the 28 year old has been named in the PFA Team of the Year during the last two seasons.
Fellaini meanwhile is considered as one of the most dominating midfielders in the top flight and has been subject of interest from Real Madrid and Chelsea with his physical presence and formidable goalscoring record enhancing his reputation since his arrival from Standard Liege.
Among the challenges which face Moyes regard this summer's transfer window and attracting world class players as well keeping the likes of Wayne Rooney at the club likely to represent an early test of his managerial credentials.