A former donut-eating champion has been arrested by police after he burgled a donut restaurant in North Carolina.
Bradley Hardison, 27, was charged on Thursday (January 18) with numerous felony offences, including breaking and entering, grand larceny and safe cracking after a robbery at a Dunkin' Donuts in Elizabeth City on November 21 last year, local police said.
The hapless criminal became an unwitting national celebrity after a previous run-in with the law four years ago.
In 2014 he was arrested by police after he won the Elizabeth City Police Department National Night Out Against Crime event. According to local reports, he beat competition after scoffing eight donuts in just two minutes.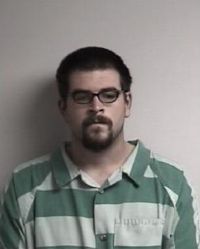 Hardison was wanted by police at the time in connection with three burglaries in the area from 2013. They used his newly found local fame to track him down for the offences. His story subsequently became national news.
State records show that Hardison was successfully prosecuted for a range of connected offences and was given a three year jail term by a judge but with his sentence suspended. That suspended jail time ran out in October of last year.
Hardison is being held under a $7,000 bond for the latest charges, according to a local newspaper.