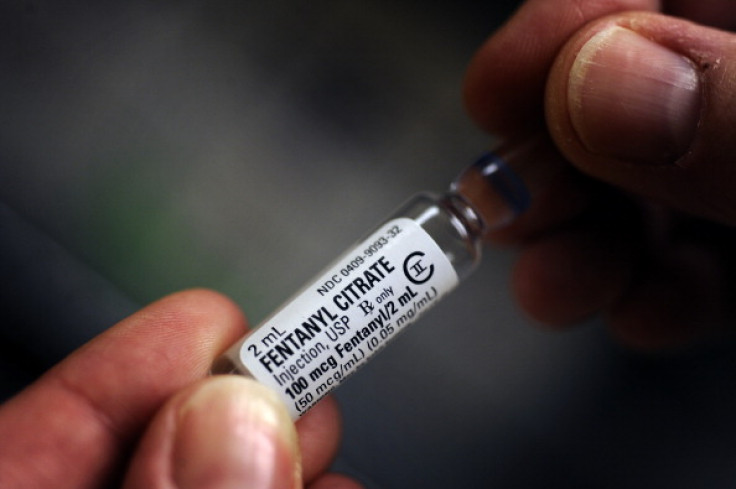 Fears the UK could soon be in the grip of a drug-death epidemic have grown after police took the unusual step of issuing a UK-wide warning over batches of heroin cut with fentanyl.
The killer drug – a synthetic opioid, said by officers to be up to 100 times stronger than street heroin – has already been blamed for several recent deaths in the north-east England regions of Yorkshire, Humber and Cleveland.
Along with its more toxic but chemically similar cousin carfentanyl, it has also been linked to a large number of heroin-related overdoses in the United States and Canada.
On Monday (24 April), concerns it may have now taken a hold in the UK heroin supply grew after police raided a laboratory in Leeds suspected of producing both fentanyl and carfentanyl.
Investigators say the lab may have been selling to heroin dealers across a much wider area than previously thought.
The National Crime Agency (NCA), dubbed Britain's FBI, on 27 April, issued a countrywide warning to heroin users and drug dealers. It also said the death toll could be even higher then previously thought, with coroners being asked to back-test blood samples for the drugs in heroin-related cases.
"We have taken the unusual step of appealing to people to be vigilant," Tony Saggers, head of drugs threat and intelligence at the NCA, said.
"First, because whilst initial toxicology revealed fentanyl analogues in a small number of these deaths, specific re-testing has started to indicate that the influence of fentanyl is greater than first suspected.
"Second, the NCA's operation with West Yorkshire Police to locate and disrupt an illicit drugs laboratory during the last 72 hours has indicated that it may be a source for the production of fentanyl and other analogues. In particular we now believe UK customers beyond the north east region are likely to have received consignments of these drugs.
"I am particularly concerned that drug dealers within established heroin markets may have purchased fentanyl, carfentanyl, or similar substances from this facility. They may not know how dangerous it is, both to them when they handle it, and to their customers.
"If you have invested in fentanyl to mix with heroin or other drugs, please stop immediately and reduce the risk that more people will die."
The NCA said it still did not fully understand why the toxic drugs were being added to the UK's heroin, which is thought to have started in late 2016.
It said research into the US and Canada epidemics suggested the killer drug had led to rising demand and profit margins. But investigators in Britain said North America's drug market differed to UK's, where heroin generally has a higher purity.
The NCA said it had not seen any evidence of UK heroin users demanding fentanyl-laced heroin, suggesting most users may be completely unaware what they're buying.
Earlier this month there were two deaths in West Yorkshire and four in Barnsley suspected of being linked to fentanyl. There have also been deaths in Humberside and Cleveland, police said. In March, a warning was issued by Cleveland Police after six recent deaths connected to a batch of low grade heroin in Stockton-on-Tees.
Public Health England (PHE) has issued an alert to paramedics and other emergency services personnel, as well as hospital staff and drug services.
Rosanna O'Connor, director of drugs, alcohol and tobacco at PHE, said: "We are urging heroin users to be extra careful about what they are taking. They need to look out for each other and be alert to any signs of an overdose, such as lack of consciousness, shallow or no breathing, 'snoring', and blueing of the lips and fingertips.
"If possible, they should use naloxone if someone overdoses, and immediately call for an ambulance. We strongly advise all dependent drug users to get support from local drug services."
Six people arrested following the laboratory drug bust on Monday, in Morley, Leeds, have been bailed to 16 May.
How dangerous are fentanyl and carfentanyl? (source: NCA)
Even in the unlikely event that users know their drugs contain fentanyl, the chances of overdosing are high. Only 0.002g (1/50th) within a typical 0.1g heroin deal is potentially fatal, and the tiny amounts make it almost impossible to effect a controlled dose. Carfentanyl is fatal in doses as small as 0.00002g, which equates to a few grains.