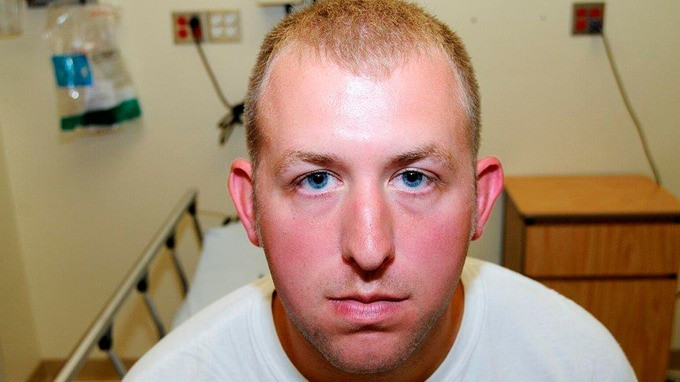 Darren Wilson, the Ferguson police officer who shot dead Michael Brown, has claimed he felt "like a five-year-old holding on to Hulk Hogan" in his encounter with the African-American teenager.
In his testimony to a grand jury, the officer said Brown looked like a "demon" during their confrontation and talked of how Brown was "bigger" and "stronger" than him.
The incident fuelled a series of violent riots in Missouri state in September and the grand jury's decision to not indict the police officer for the murder of Brown has sparked further riots and protests across America.
Wilson, 28, details his version of events leading to the death of 18-year-old Brown.
The officer said the incident escalated after he demanded that Brown move from the middle of road to which Brown allegedly replied: "F**k what you have to say."
Brown approached Wilson's car, from where Wilson gave the demand, and started to hit the officer.
"I felt that another one of those punches in my face could knock me out or worse. I mean it was, he's obviously bigger than I was and stronger," part of his testimony states, which was given by Wilson in September and is 88 pages in length.
"I've already taken to two the face and... the third one could be fatal if he hit me right."
"Or at least unconscious and then who knows what would have happened to me after that," he added.
'It looks like a demon, that's how angry he looked'
Wilson then spoke of his injuries and pictures that the hospital said showed bruising and some scratches to his neck. "It is hard to see on that. It is in that area right there," Wilson said.
He then claimed that the pair grappled in which Brown said: "You are too much of a pussy to shoot me."
The policeman then grabbed his weapon and tried to shoot twice but failed before shooting Brown.
"And then after he did that, he looked up at me and had the most intense aggressive face. The only way I can describe it, it looks like a demon, that's how angry he looked," he added.
He said that he told Brown to "get on the ground" before the teenager turned around, "made like a grunting, like aggravated sound", and reached underneath his shirt.
The officer then fired six more shots at Brown in an alleged reaction to Brown's actions. The teenager was unarmed during the confrontation.
Elsewhere, UN human rights chief Zeid Ra'ad Al Hussein has raised concerns over the disproportionate number of young African-Americans dying in police confrontations in the wake of the Ferguson shooting verdict.