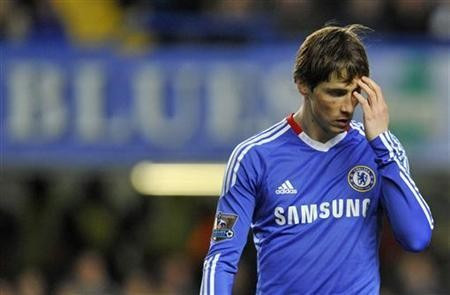 Andy Townsend has described Fernando Torres' current woes at Chelsea as "the nightmare that doesn't seem to end", suggesting the former Liverpool star looks a shadow of the player that prompted the Blues to smash the British transfer record in January.
The Chelsea forward has cut an increasingly frustrated figure this season and his situation has clearly been exasperated by suspension and the perennial rotation with Didier Drogba. Such is Torres' current predicament Townsend believes the ex-Liverpool talisman could join a growing list of previously established centre-forwards to suffer at "the striker's graveyard" of Stamford Bridge.
Chelsea paid their Premier League counterparts Liverpool, £50 million late in the January transfer window and although Torres has had nearly a year to acclimatise to his surroundings, the aforementioned ITV pundit suggests the World Cup winning forward is patently struggling under the weight of expectation.
Prior to his move from Liverpool and aside from an underwhelming final few months at Anfield, Torres was widely regarded as one of the most threateningly potent strikers in world football, yet on current evidence Townsend fears Chelsea and fans of the Premier League may already have seen the best of the 27-year-old.
"You feel like watching his matches from behind the sofa; it's the nightmare that doesn't seem to end." Townsend said of the much maligned Chelsea striker in his column for the Daily Mail.
"If he was a £1million player going through this ordeal, you might think he's not worth £1m with the way he is playing. But this is the British record transfer signing, at £50m.
"Chelsea have had a few strikers who arrive in good nick and cannot perform at Stamford Bridge. It has been the striker's graveyard for Robert Fleck, Chris Sutton, Mateja Kezman, Andriy Shevchenko and Hernan Crespo. Now Torres.
"There is no obvious reason for that. I played with Fleck at Norwich and he was an 18 to 20-goal-a-season striker but he scored eight goals in three years at Chelsea. Sutton cost £10m but never recovered from a bad start, while Kezman, Shevchenko and Crespo were all prolific elsewhere, but not at the Bridge.
"Torres is playing like there are weights in his boots. His body language is poor, he is misreading the game, his confidence has drained. If he goes near post, the ball goes far; if he comes short, it goes long.
Townsend believes Torres is still struggling to settle at Chelsea and cites the level of expectation currently being put on the striker as one of the reasons behind his obvious malaise.
He continued: "I know it's not always easy to settle at a new club instantly. When I went to Aston Villa, I was ordinary. I struggled to find my form under Ron Atkinson and, even though we won the League Cup that year, I wasn't really at the races. But I played in central midfield and so that is different.
"But a striker is expected to be explosive - immediately - and get fans off their seats. He is the poster boy of the club, the man to win matches and sell shirts. There is no hiding place.
"Some of the names from history, people like Sergei Rebrov, Stephane Guivarc'h and Garry Birtles just didn't fit in. A goalscorer needs to feel at home.
"Torres is a long way short of that now and only two people can resolve this - can the player himself rediscover his form and his joy of football or can the owner, Roman Abramovich, find a club to buy him?
"It cannot go on like this."