Ferrari goes green: Battery patent reveals electric hybrid car in development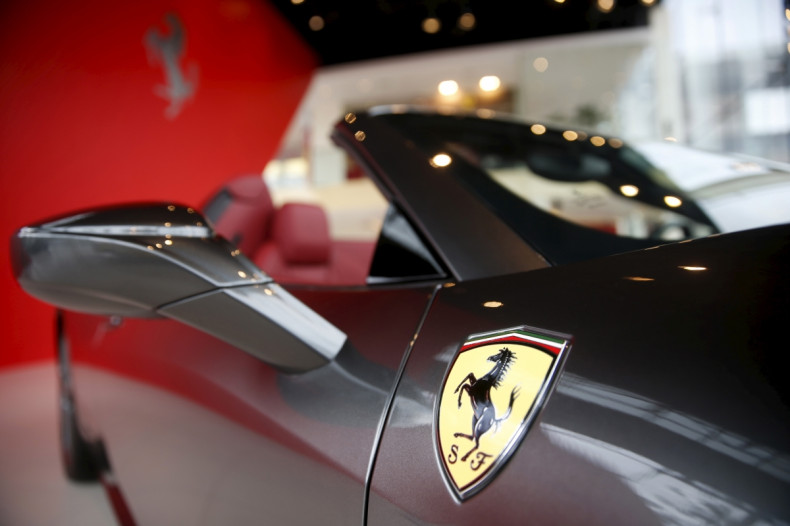 Ferrari is planning to build its first hybrid car which can be driven in a fully electric mode. The car will have battery packs mounted in its floor which will supplement a petrol engine, but also be used to drive the car without the engine running.
Until now, the only hybrid produced by Ferrari was the LaFerrari in 2013, a million-pound hypercar which used a battery pack to gives its V12 engine extra performance. The company's plans for a new hybrid system, outlined in a newly discovered patent, point to a more environmentally-conscious use of electric motors.
The patent, unearthed by AutoCar, describes a future Ferrari with a petrol engine in the front and an electric motor in the back. Two large battery packs are located in floor in a herringbone pattern, either side of the transmission tunnel.
This puts the batteries very close to the sides of the car, where they could be damaged in side-on impacts. To help prevent damaged batteries becoming a risk to anyone touching a crashed car, each cell is sat in a 'support matrix' of 'disconnecting plates'. In the event of major impact, the plates separate each battery from its neighbour, reducing the risk of a short-circuit or electrocution.
While the LaFerrari showed how hybrid power and batteries can be used to increase a car's performance, this new system will help Ferrari meet new pollution laws which will prevent cars not capable of zero emissions from driving through major cities. It is already a target for all vehicles in London to be capable of zero emissions (if only for a few miles) by 2025.
A Ferrari using this hybrid system would meet the brand's usual performance targets out of town, then switch to a fully electric mode, using energy harvested while braking (and from a plug-in charger) to power the electric motor. The BMW i8 offers a similar solution.
A development mule based on the the Ferrari California and with bodywork similar to a shortened 599 was spotted testing in 2013, and it is now believed that this vehicle was using the hybrid system outlined by the patent.
However, a Ferrari using such a hybrid system is not expected to go on sale until the end of the decade, when the F12 will likely be updated as a hybrid and the rumoured 'new Dino' – a smaller, cheaper Ferrari – will launch, also carrying a version of the electric system.
A Ferrari spokesperson told IBTimes UK that the company does not comment on future product plans or patent applications.