The Model 3 would be the most important moment in Tesla's history to date. It would be the car that takes Tesla from a niche company into the mainstream by offering a fully electric car with a range of more than 200 miles and a price of less than £30,000.
With a release date falling somewhere in 2017, the Model 3 would likely arrive just as traditional car manufacturers get their own all-electric offerings into gear and off the end of the production line. With just a few weeks to go until the big reveal, here is everything we know so far.
The reveal might not be all that big... for now
Last year we heard that the Model 3 was coming in March, and with the world-famous Geneva Motor Show opening to journalists on 1 March, this appeared to make perfect sense. However, now we are not so sure. Tesla is attending the Geneva show – in Hall 4 with Honda, Renault and Toyota – but boss Elon Musk recently said the car would not be revealed until the end of the month.
Furthermore, Musk said the company is being "a little coy" with the Model 3 and would not be showing the car off in full at the late-March event. This could mean we only see a teasing, shadowy photo or that Tesla would reveal an early, non-functioning concept car, possibly with blacked-out windows and no interior.
It is to cost less than £30,000
Speaking at the Prince's Trust Leadership Dinner in London in January, Musk said the Model 3 would cost less than £30,000. He has also previously said it would cost less than $30,000 (£20,000), but the difference here would be cancelled out by UK tax and the cost of shipping cars over from California.
At this price, the Model 3 will be positioning itself against the BMW 3-Series, Audi A4, Jaguar XE and Mercedes C-Class, all of which start between £25,000 and £30,000. This is arguably the toughest market for any car company to crack, and would open Tesla up to fleet buyers looking to order company cars in bulk for their staff.
The Model S currently stretches from £50,000 to a little more than £100,000. We don't expect the Model 3's price to double with options, but a spread of £30,000 to around £50,000 sounds reasonable. Will there be an £8,700 Ludicrous Mode to make the Model 3 Ferrari-fast? Possibly not, but...
It is to be faster than all of its rivals
Does anyone really expect Musk not to boast about the Model 3 being the faster car in its class? It might not have the 155mph top speed of some of its rivals, but it would still use that electric motor to launch off the line more quickly than anything else.
We suspect a 0-60mph time of four seconds (or three-point-something, if Musk really wants to brag) would be entirely possible, but don't forget that a smaller car has to equal a smaller battery and less powerful motor. This is 'the electric car of the people', not a hot rod.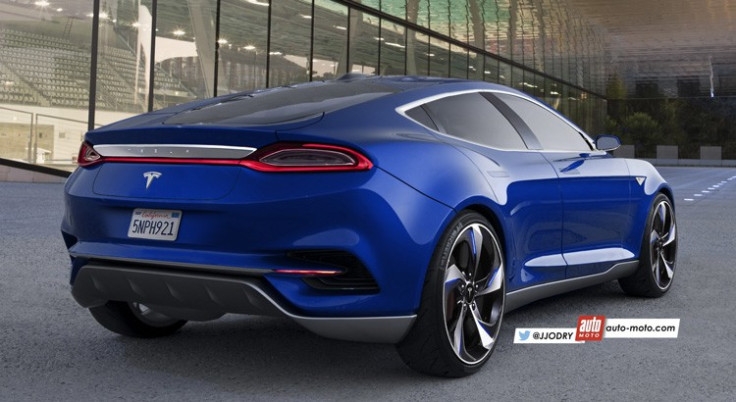 It would have a range of at least 200 miles
In March 2015, Musk said that 200 miles is the minimum expectation for an electric car. More specifically, he said this figure must be "real world" and not a case of the car only reaching 200 miles if the air conditioning is off and it is driven on a road as smooth as a snooker table. "Anything below 200 miles isn't passing grade," he added. "Most people [are] looking for 20% more than that."
So let us take that to mean the Model 3's target range is 240 miles – not far shy of the 275 quoted range of the cheapest Model S, the 70D, but a comfortable way behind the 340 miles of the 90D, which is twice the price of the Model 3.
But the Model 3 isn't on sale yet, and battery technology is improving at an accelerating pace. The 200-240mph claim was made almost a year ago, and once the Model 3 goes on sale it would be two years old. Improvements between now and 2017 would likely see longer ranges across the board – but there is always be a gap to justify the higher prices of the S and X.
It is on schedule – for now
Momentum built up by the Model S was knocked back a peg by delays to the Model X. Adding cool but complex details such as the 'falcon wing' doors swallowed up time and money, delaying the new model and disappointing investors and consumers. Delays for six-figure cars built in small numbers by a niche company and sold to wealthy early adopters are to be expected – but Tesla wants the Model 3 to be its biggest seller and take a large slice of a forecast 500,000 annual sales by 2020, up from 50,000 in 2015.
Consumers do not expect delays when they order a new Ford, BMW, VW or Audi. In switching to Tesla, they are already taking a gamble that a small company will whisk them into the future; the last thing they will want is a delay – especially if a novelty feature such as a complicated door hinge is to blame.
The Model 3 platform is to be shared with the Model Y
Rumours spread in early 2016 claimed that Tesla was ready to announce two versions of the Model 3. This now seems unlikely, but we wouldn't be surprised if the Model 3's platform could be shared with other Tesla vehicles in the future. Cars made by the Volkswagen group – VW, Audi and Seat – have shared platforms and common components for some time. It's an obvious cost-saving measure, and something that Tesla should also do. I would expect the Model 3 to be a small five-door saloon, followed by an SUV crossover like the Nissan Juke, entitled the Model Y.
In October 2015, Musk tweeted a fan asking if the "Model 3 crossover" would have falcon-wing doors. He said: "There will be a Model 3 and a Model Y. One of the two will." Musk's tweet was then deleted, but the story is a simple one: the Model Y will be to the Model 3 what the Model X is to the Model S.
It was supposed to be called the Model E
That last sentence made me angry at why carmakers don't use fun, dynamic and interesting names any more. Instead of Daytona, Thunderbird, Cerbera and Spitfire, we have F12tdf, i10, C4 and Tesla's range of seemingly unrelated Models. But hold on. In Tesla's case we actually have Ford to blame for spoiling Musk's joke: he originally wanted a line-up of Models S, E, X - with Y coming later. Geddit?
Well, now it's S-3-X-Y because Ford's lawyers came knocking, reminded Tesla that it owns the Model E trademark, and that no, it isn't for sale. Ford also produced a Model Y, back in the 1930s, so Musk's plans might have been thwarted there too. Sorry, Elon.