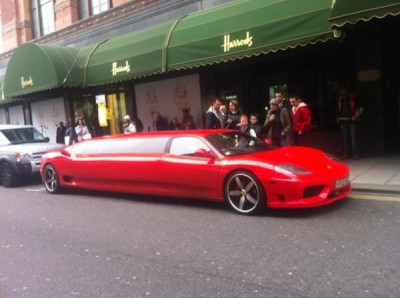 A one-of-kind Ferrari Stretch Limo managed to turn heads when it was spotted parked outside Harrods department store yesterday afternoon.
The last minute Christmas shoppers that choose the extravagant car as their mode of transport came fully prepared to do a lot of shopping by arriving in something a little more spacious than the usual.
Whatever the reason, the shoppers appeared not to be feeling the pinch of the economic downturn after getting their hands on the one-off car that costs £1200 to hire for just one hour.
Capable of reaching speeds of up to 166mph, the Ferrari limo which was created by cutting a regular Ferrari in half and adding a limo style interior in the middle, is the fastest limousine in the world.
It's not surprising that the extravagant motor has attracted attention from across the globe since it was unveiled and has even featured on BBC motoring show, Top Gear.
However, flashy car is not alone,many designers have realised their dream of creating their ideal sports cars. Here we have a look at just a few of the world most outrageous cars.