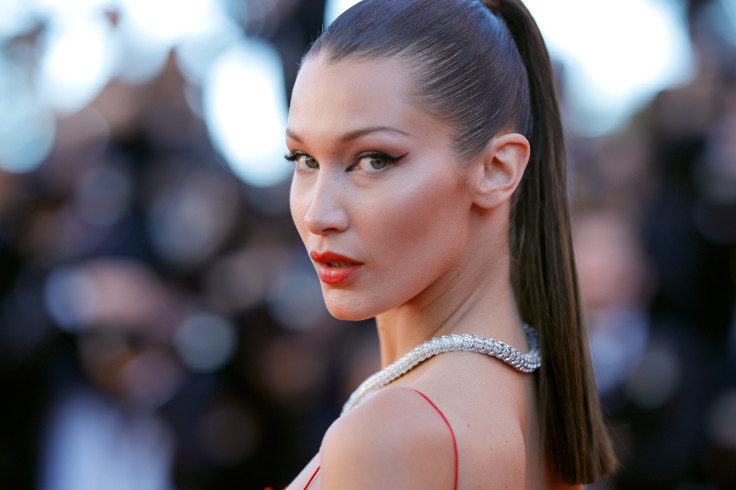 Victoria's Secret model Bella Hadid showed off her amazingly-toned figure in a sequined see-through bodysuit in a photo shoot for Vogue Magazine and shared it with her 14.7 million followers on Instagram.
The 20-year-old model went braless for the shoot, which featured her lying on her back in an acrobatic pose.
Hadid's modesty was covered with some strategically-placed graphics as she gave a fierce look towards the camera, and captioned it saying, "ME&GUI FOR VOGUE."
In another snap shared on Instagram, she went braless again with a mesh t-shirt on. Graphics were used this time around as well to strategically cover her nipples. She wore purple shorts, tied her hair up in a neat ponytail and wore an embellished choker to complete her look.
Fans obviously went gaga over her almost-nude photos, taking to the comments section to gush about her beauty. A user wrote, "You definitely know how to sparkle & shine in your photos!" while another exclaimed, "What a beauty."
A follower called her "fierce and sexy", while another was impressed with the shoot, "This shoot is so incredibly original. I'm in love! V beautiful."
A fan even called her an "inspiration" and wrote, "It's just insane... perfection at its best... I love ya bella... such an inspiration."
Another user commented, "Stunning! Seriously love this! So vintage and old school!"
"Oh Bella! You're an amazing beautiful woman with a kind spirit," a comment said.
But the question most of her fans asked was, "How can someone still look perfect like that?"
"I hate that I love you so much. You just a natural. Damn how can one be this perfect," a follower gushed.
The young American model, one of the most popular stars on the fashion circuit, spoke about her career so far in an interview with InStyle Magazine. She said that "working this much is going to give me a better platform to do bigger things in the world."
She continued, "I'm not saying I don't love my job, but people think modeling is a bulls**t thing to become more famous. I was 100 percent independent by the time I was 18, and I paid for my own apartment. That wasn't because of my parents. I worked my ass off for two years."