The United States justice department is scrutinising contracts related to the 2014 Brazil World Cup involving Fifa, commercial partners and suppliers, according to reports. The news comes as world football's governing body is embroiled in a series of corruption scandals.
On 3 June, Interpol issued Red Notices for six Fifa executives and officials, including ex-vice-president Jack Warner, former executive committee member Nicolas Leoz, and four South American business executives, over charges including racketeering, conspiracy and corruption at the request of US authorities.
This followed Sepp Blatter's resignation announcement on 2 June following his recent re-election to the role of Fifa president and 17 years in charge of the organisation.
Valcke and Teixeira's relationship 'examined'
But the focus of the US investigation will be the relationship between Fifa secretary general Jerome Valcke and Ricardo Teixeira, former president of the Brazilian Football Confederation (CBF), the Folha de Sao Paulo reported on Wednesday (3 June).
Both men are said to be on a Federal Bureau of Investigation (FBI) list of people suspected of financial crimes and fraud.
According to the report, investigators are scrutinising the relationship between Valcke and Teixeira as well as probing potential irregularities in contracts the men signed over a period of five years in the run-up to the World Cup in Brazil.
Folha said the US Department of Justice has refused to comment on the case. However, sources close to the matter confirmed Valcke and Teixeira's relationship was being "examined".
$453m handed to Teixeira's committee
Overall, more than a thousand World Cup-related contracts were agreed, many of them with governments. Fifa allocated $453m (£295m) to Brazil's World Cup Local Organising Committee (Comitê Organizador Local, COL), headed by Teixeira.
The inquiry is looking at whether there is a link between Teixeira's move to the US in 2012 and the fact that a number of World Cup sponsors had headquarters there, Folha said.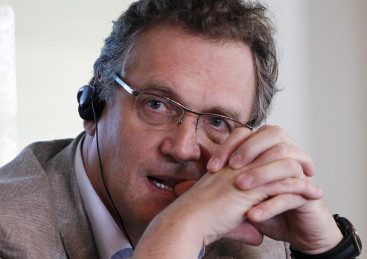 Earlier in 2015, German firm Bilfiger admitted it had suspected its directors had paid $1m in bribes in return for a contract with the World Cup's centre of control and security.
A spokesperson for the company told local newspaper Estado on 3 June that all the evidence had been handed over to the Public Prosecutor's Office.
Valcke, who is also under investigation for payments related to the 2010 World Cup estimated at $10m, left Fifa in 2006 but returned to the organisation in 2007 when Brazil started preparing for its World Cup.
On 3 June, Valcke proclaimed his innocence over the $10m payment and said that he saw no reason to resign. "There is nothing against me," he told a French radio station, adding he would stay until the end of Blatter's mandate.