Fifa corruption: 6 executives and officials added to Interpol 'Most Wanted' list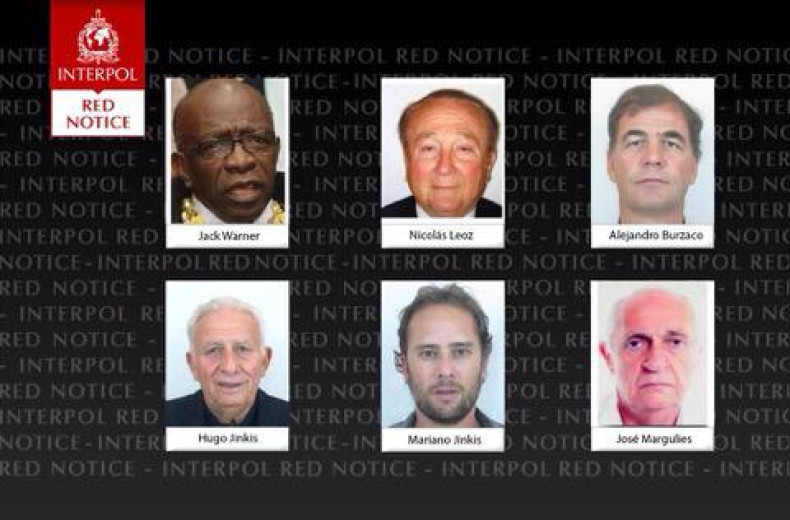 Interpol have issued Red Notices for six Fifa executives and officials, including former vice president Jack Warner, at the request of US authorities.
The Red Notices - or international most wanted persons alerts – have been issued for Warner, former executive committee member Nicolas Leoz, and four South American business executives for charges including racketeering, conspiracy, and corruption.
A Red Notice is not an international arrest warrant and Interpol cannot compel any country to arrest the subject of one. Instead, it is a way for the international organisation to alert its member countries that an arrest warrant has been issued for an individual by a judicial authority.
Warner of Trinidad, and Leoz of Paraguay, have been arrested in their home counties. Warner has since been released and Leoz currently is under house arrest. The Red Notices now mean they risk arrest anywhere they travel.
The other men who have been issued with Red Notices are:
Alejandro Burzaco: Argentine national, controlling principal of Torneos y Competencias S.A., a sports marketing business based in Argentina, and its affiliates;
Hugo Jinkis and Mariano Jinkis: Argentine nationals, controlling principals of Full Play Group S.A., a sports marketing business based in Argentina, and its affiliates; and
José Margulies (also known as José Lazaro): Brazilian national, controlling principal of Valente Corp. and Somerton Ltd., broadcasting businesses.
Burzaco and Jinkis are both accused of paying more than $100m (£65m) in bribes for media and commercial rights to football tournaments.
The Interpol alert arrived after seven Fifa officials – including Warner - were arrested at a hotel in Zurich for fraud, racketeering, and money laundering conspiracy allegations, and the indictment of 14 worldwide.
Sepp Blatter announced he is to resign after 17 years in charge of football's world governing body following the corruption scandal which has engulfed Fifa.
Announcing his intention to resign, Blatter said: "While I have a mandate from the membership of Fifa, I do not feel that I have a mandate from the entire world of football — the fans, the players, the clubs, the people who live, breathe and love football as much as we all do at Fifa."
He added: "Fifa needs profound restructuring. The interests of Fifa are very dear to me and that is why I have taken this decision."
Blatter is also said to be under scrutiny of the FBI as part of the US investigation into corruption at Fifa.