Shadow sports minister Clive Efford has branded World Cup sponsors a "disgrace" and claims they have "serious questions" to answer regarding their knowledge of corruption at Fifa.
Efford, Labour MP for Eltham, told IBTimes UK: "It's a disgrace that sponsors haven't yet called for a root and branch investigation into allegations of corruption and bribery. It's a disgrace that they have remained silent for so long before this latest scandal. Some have now stepped forward but some of the responses, like McDonald's, have been a complete disgrace."
Fifa's key World Cup sponsors – which include Coca-Cola, Adidas, Visa, Sony and Gazprom − have expressed shock over allegations of bribery and corruption, but none of them have threatened to pull out. Fifa made $1.6bn (£1bn, €1.4bn) from sponsorship deals at the 2014 World Cup.
Efford added: "Sponsors have serious questions to answer: why have they remained so silent for so long? And have they provided money they knew was being used for bribes? These firms spend so much money protecting their reputations, how could they let this go on for so long? Because, as we know, this isn't the first scandal. They had the power to stop this mire of corruption and they still have the power to stop it."
The MP urged the firms to use the threat of sponsorship withdrawal to force Fifa to reform and to re-run the bidding process for the 2018 and 2022 World Cups.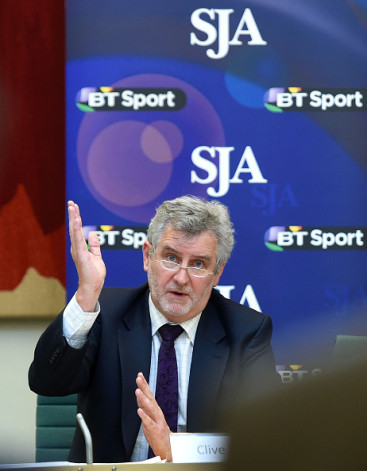 "The whole process has been undermined. As for the sponsors, clearly financial considerations have overridden ethical, moral and human rights ones. Just look at the migrant workers in Qatar and how they are treated − it's a disgrace," he added.
He also praised the FA for "standing up" to Fifa and Sepp Blatter during England's unsuccessful bid for the 2018 World Cup.
Efford's comments come as pressure on Fifa's sponsors is being ramped up.
The Institute of Directors (IoD) has also called on the organisation's sponsors to act, calling it a matter of "urgent attention" for the boards and shareholders of sponsors.
Dr Roger Barker, director of corporate governance at the IoD, said: "Large multinationals who pour hundreds of millions of pounds of sponsorship into Fifa's coffers every year cannot turn a blind eye to the gross failures of corporate governance at the organisation."
Barker also said that, after yesterday's arrests, the "equation has changed dramatically" in terms of reputational risks outweighing the financial benefits of sponsorship.
"To be associated with alleged corruption and bribery is a huge reputational risk. The fact that football is lucrative and there may be significant benefits to sponsoring the World Cup shouldn't dwarf ethical considerations."
He also called on sponsors to engage with Fifa in order to force reform.
"To be associated with alleged corruption and bribery is a huge reputational risk. Sponsors need to engage with Fifa vigorously to force real change. If it doesn't result in change, then their recourse should be to pull out of sponsorship," he said.