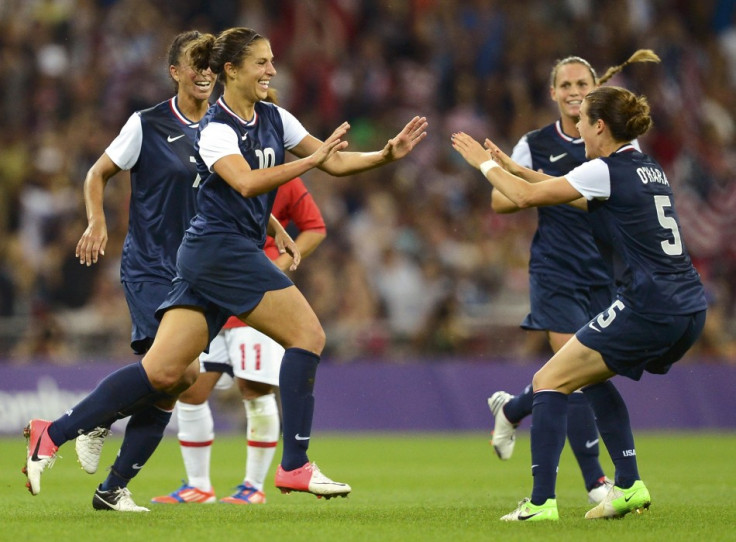 The USA won the Women's World Cup for the third time, after defeating Japan 5-2 on Sunday, with American captain Carli Lloyd scoring the tournament's fastest ever hat-trick and a spectacular long-range goal in Vancouver, Canada.
The USA became the first country to win the Cup three times, taking home the Cup after 16 years. It won the cup first in 1991 and then in 1999.
"Honestly, I'm so proud of this team, it's unreal, it hasn't really sunk in, I'm just so unbelievably proud of every woman on this team," an emotional Lloyd said in a pitchside interview, Reuters reported.
"I was on a mission to help this team, I just worked my butt off. Collectively, so brilliant, so brilliant, so proud," she said.
The American captain struck three insides within 16 minutes as the USA stormed into an unexpected and insurmountable 4-0 lead over Japan, winners four years ago.
Lloyd was awarded the Golden Ball in the World Cup and she also tied for most goals (6) in the tournament with Celia Sasic from Germany.
The opener came in the third minute, with Megan Rapinoe sending a low diagonal ball to Lloyd who drove it past Japan goalkeeper Ayumi Kaihori.
Two minutes later, Lloyd stunned Japan with another goal.
The third goal came from a low ball, this time Lauren Holiday who took a free-kick which the Japan defence failed to clear and Lloyd took advantage to send the ball home.
One of the most remarkable goals seen in the Women's World Cup came from Lloyd, who shot from 50 yards out, with Kaihori only able to palm the ball onto the post and into the net, Reuters reported.
"She's just a beast man, she's unbelievable, a rock star. I'm just so happy for her," USA coach Jill Ellis said of Lloyd.
Japan finally scored in the 27th minute when Yuki Ogimi fired past USA goalkeeper Hope Solo to make it 4-1.
In the second half, Aya Miyami's long free-kick was aimed at Sawa in the box and although Johnston rose the highest, the USA defender's flicked header bounced past a helpless Solo and into the goal via a post.
Two minutes later however, a USA corner fell to Morgan Brian beyond the far past, and her shot found Tobin Heath who sent it home to make it a 5-2 score, effectively ending Japan's hope of a comeback.