Fifa World Cup 2014: Algeria National Team Donates £5m Prize Money to Gaza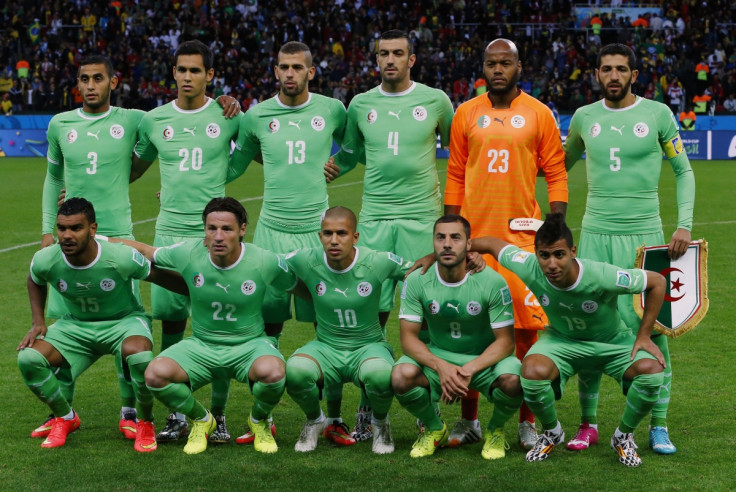 Algeria will donate their £5.25m ($9m) Brazil World Cup second round prize money to the people of Gaza, according to striker Islam Slimani.
The North African side won a new legion of fans after their heroic Group H performances earned them a Second Round tie against Germany.
Slimani, a striker for Portuguese side Sporting Lisbon, announced that the entire squad will donate their hefty prize money to the occupied territory because "they need it more than us", according to a report in the Daily Mail.
The Gaza Strip is a narrow territory occupied by Israel currently under a land, sea and air blockade. Humanitarian conditions have continued to deteriorate rapidly because of the blockade, according to the United Nations and aid agencies.
The Algeria team returned to the capital of Algiers for an open-top parade through the city centre after reaching the Second Round of the global tournament for the first time in their history.
The selfless act contrasts with that of incidents involving the Ghana, Cameroon and Nigeria squads.
The Ghana squad demanded their appearance fees before their must-win clash against Portugal, leading the Ghanaian government to charter a flight to fly out the £1.8m ($3m) worth of fees to Brazil.
"The players insisted that they will want physical cash. Government had to mobilise the money and a chartered flight to Brazil. The money is in excess of $3 million (£1.8 million)," said Ghana's Deputy Sports Minister Joseph Yamin.
The Cameroonian World Cup squad refused to board their flight to Brazil after a dispute over bonus payments. The team eventually flew to the tournament a day late after striking a deal with the nation's football authority following an emergency meeting.
Nigerian's World Cup stars went one step further when they boycotted a training session over fears that they would not receive their bonus money after the tournament.
The financial impasse caused Nigerian President Jonathan Goodluck to intervene and reassure the squad that they would be paid any money owed to them.
© Copyright IBTimes 2023. All rights reserved.