The "Magic Spray" which keeps defenders' walls 10 yards away and disappears after 60 seconds is one of the big successes of the World Cup.
Heine Allemagne, who invented the vanishing free kick spray, is certain to make millions after years of poverty and looming bankruptcy.
The spray could become a fixture in football, as Premier League officials are thinking of using the foam in England.
The spray is already in use in Argentina and Brazil's domestic leagues. The ingredients include water (80%), butane gas (17%) and surfactant (1%). The butane expands when the pressure changes, forming small drops of butane, covered with water, on the ground. Eventually the butane evaporates, leaving only water and invisible surfactant residue on the ground
The Brazilian revealed the Eureka moment when he first came up with the idea. "I was watching Brazil v Argentina in 2000, and the commentator caught my attention when he said he wanted to see the day that the wall could be kept at the correct distance," he told website Zero Hora.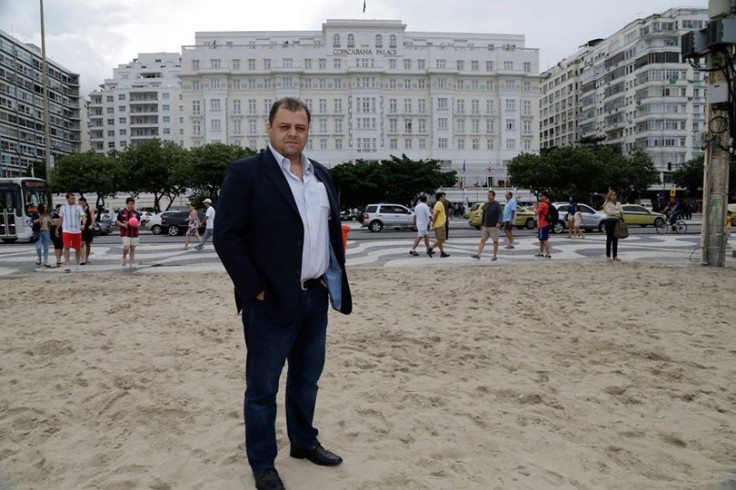 "I thought: 'There must be a way.' A cheap product, biodegradable, and marks that would go away after some time, to make a continuous line, which was white. Then I went into the bathroom, grabbed the tube of shaving foam and marked the line on my arm. I saw that it worked."
When the vanishing spray was used for the first time at the World Cup, Allemagne says it was a "magical moment".
"I dedicated 14 years of my life to this idea," he said in an interview with the Mirror.
"After the referee brought it out the first time I started receiving text messages from my family and friends.
"It was the first time I got emotional, my eyes welled up. I remember thinking, 'I'm not crazy. It was all worth it'".
Growing up, Allemagne was one of five children living in a three-bedroom house in Ituiutaba, a small town between Sao Paulo and Brasilia.
"We all slept together in one small room. I never had any toys and we had few clothes. My parents sent me out to work at the age of eight," he said.
Although Allemagne will rake in the profits if his product is adopted globally, the reward will be bitter-sweet.
"I hope that whatever financial gain is comparable to my 14 years of struggle. I've paid a high price. I chose not to see my children grow up so that I could make this work."