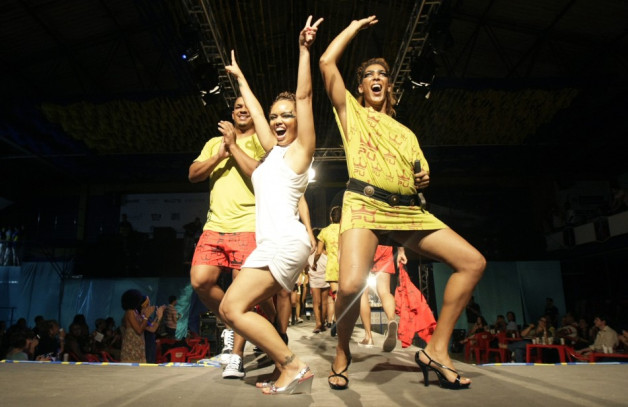 The Brazilian government has asked the country's love hotels to cater for football fans at next year's Fifa World Cup, owing to a shortage of hotel accommodation.
Because the love hotels are relatively affordable, the Brazilian tourist board has appealed to their owners and Fifa to help lower hotel prices, which have risen rapidly in anticipation of the World Cup.
Rates have increased to five times the norm in some Fifa-approved hotels.
The shortage was so great during the Confederations Cup in June in Recife, one of the World Cup host cities, that officials directed tourists to towns over 75 miles away.
The Apple motel, on a busy road in Sao Paulo, is a 'love motel', and there are thousands across the country, catering specifically for sexual encounters.
Room service is delivered through a hatch in the wall, and there is no lobby. Guests drive into the garage and speak to the receptionist on the house phone.
But now the Apple motel will cater for a wider range of clientele, charging by the night rather than by the hour.
"We've changed the menu, brought in more professional hotel staff and got better cooks," Ricardo Monteiro, one of the owners told The Times.
Meanwhile, the sex industry is preparing for hordes of football fans.
In Belo Horizonte, south-east Brazil, the Association of Prostitutes has been offering free English classes to its members to improve communications with the 140,000 British football fans expected to arrive next summer.
Prostitution is legal in Brazil and Cida Vieira, the association's president, says she wants the city's 80,000 sex workers to improve their English.
"They'll have to learn how to work out financial deals and also to use a specialised vocabulary with sensual words and fetishes," she said.
One of the volunteer language instructors said his classes aim to "teach basic expressions but also have demonstrations with erotic paraphernalia so they learn the names, how to use them."
With widescale corporate interest in the Fifa World Cup, about one in ten visitors is expected to fly in on private aircraft, bringing 3,000 business aircraft to Brazil.
Critics been sharp over Brazil's security preparations for the Fifa World Cup. There's little regulation in place on services used by visitors - from hotels and restaurants to taxis and public transport.
Authorities say they are aiming to coordinate anti-narcotics agencies, police and paramilitary forces, intelligence networks and the national tourism board.