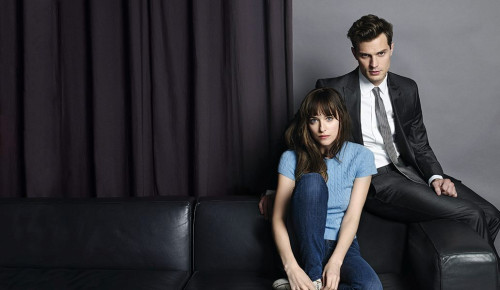 Looks like all is not well on the film sets of Fifty Shades of Grey. Reportedly, the film's director Sam Taylor-Johnson and Fifty Shades author E. L. James are not able to see eye to eye with regard to the film's execution.
According to an E! Online report, creative differences are cropping up between the author and director.
"Sam is getting annoyed about the way the script is being handled," a source tells E! News. "E.L. James wants the movie to match the book exactly, but Sam has a different perspective. Sam is reminding E.L. she writes books and she makes movies. This has caused some tension between the two of them."
This new hiccup that comes close to the heels of another setback reported earlier about certain sex scenes in the film getting axed, might not go down too well with the fans who are eagerly awaiting the release of the film.
The good news however is that the film's lead pair Jamie Dornan and Dakota Johnson's relationship is just fine, as per the report. Despite the director-author friction, the couple seems to be getting along famously.
"Jamie Dorman is really protective over Dakota," the source says. "She is very friendly and talks to everyone [crew, security, etc.] Jamie stays to himself and does not talk much. Jamie thinks Dakota gets really distracted, because she is so nice to people and so he will walk over to who she is talking to and try and end the conversation. He is nice about it, but he does ask them to leave her alone."
Dakota also seems to be doing a good job of playing Anastasia Steele. As per the report, she is 'nailing her role' as the shy and submissive girl and everyone on the set loves her.
As per recent reports, sex scenes already filmed by the cast are in danger of being removed from the film altogether. The reason behind this is to avoid the NC-17 rating which, the producers feel, might affect the film's collections.
"A decision by the studio to make the film less racy is likely to upset fans of the books, who will be expecting to see all manner of raunchy acts in keeping with the original tone," states a Total Film report.
The film is set to be released on 15 February 2015.