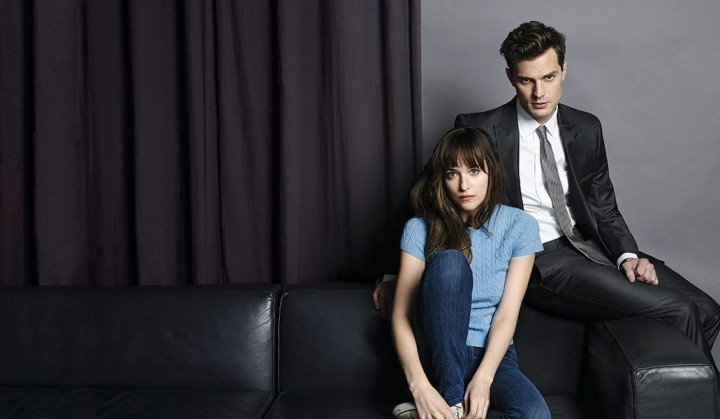 Fifty Shades of Grey, starring Jamie Dornan and Dakota Johnson as Christian Grey and Anastasia Steele, is the most highly anticipated movie of 2015.
Currently the Sam Taylor-Johnson directed movie is re-shooting some of the scenes featuring the lead characters.
The re-shoot, however, has sparked rumours of some ongoing conflict on the movie set.
"They are still editing. They are happy so far with the way things are going. They are shooting fillers, having to add some more material. [E.L. James] did not feel there was enough, even though she is happy with everything so far," a source from the movie set told E Online.
"Jamie and Dakota are super relaxed and no issues as of yet on set. Everything is going good," the source added.
Meanwhile, US Weekly has released some onset images of the hot couple kissing during the re-shoot of the BDSM based movie and the pictures prove that the on-screen couple are at ease during the re-shoot.
Johnson, who was earlier criticised for not justifying the aesthetic character of the naive Anastasia, has also felt the pinch of disapproval at home.
Apparently Dakota's father and grandmother were not too happy with her for the kinky sex scenes in the EL James' best-selling erotic novel adaptation.
Dornan and Johnson have also expressed the complexities of shooting the explicit sex scenes.
"We got ourselves into situations that don't feel too natural and are not that easy," Dornan explained on the Today show. "You need to have the trust there."
However, he also said that the movie won't be a hard watch.
"It's going to be sexual and everything, but it's not going to be something that's going to be hard to watch," Dornan added.
Fifty Shades of Grey movie follows the story of the naive college girl Anastasia Steele who falls in love with billionaire entrepreneur and BDSM obsessed Christian Grey and becomes the part of his highly sexual world.
The movie is scheduled to release during Valentines' day in February next year.