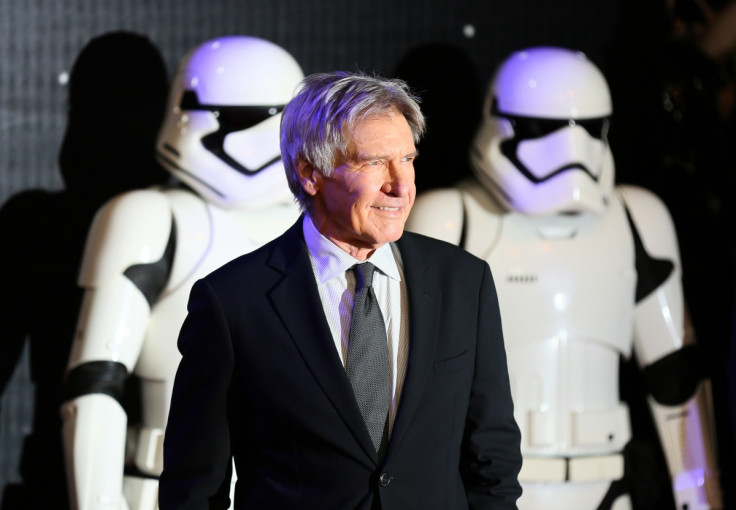 A film production company has been fined £1.6m (€1.78m, $1.96m) for health and safety breaches after Harrison Ford was crushed by a hydraulic door on the set of the Millennium Falcon spaceship while filming a Star Wars movie.
Foodles Production (UK) Ltd was handed the penalty at Aylesbury Crown Court on Wednesday (12 October) after the Disney-owned company admitted two breaches of health and safety law following the incident, in which Ford was knocked to the ground and pinned down by a steel door.
The Hollywood star was reprising his role as Han Solo in Star Wars: The Force Awakens at Pinewood Studios in Buckinghamshire in June 2014 when he was hit by the door, which had been designed to mimic the action of a door on the original set.
At a previous hearing, the court was told he could have been killed in the incident.
The Health and Safety Executive (HSE) said the power of the rapidly-closing door meant Ford was hit with a force comparable to the weight of a small car.
Judge Francis Sheridan said the firm had failed to communicate its risk assessment to Ford. He said: "The greatest failing of all on behalf of the company is a lack of communication, a lack because, if you have a risk assessment and you do not communicate it, what is the point of having one?
"That is the most serious breach here. If only they had included Mr Ford in all the discussions, he might have at least been alert to the dangers that he had to avoid."
Earlier, prosecutor Andrew Marshall said Ford had gone through the door on the Millennium Falcon set with another actor and hit a button during a second dress rehearsal. He started to walk back through the door, believing the set was not live and that it would not close because it had not done so during previous rehearsals.
The 1.2 metre by 2 metre door was designed to be remotely closed by a special effects operator, who shut it upon a signal from a spotter. It acted like a "blunt guillotine", coming down "millimetres from his face" as the star passed underneath and pinning him by the pelvis to the ground.
Staff reacted quickly to engage an emergency stop button but as the door took just 1.6 seconds to close fully, they were not quick enough to prevent it coming down with "enormous" force and stopping at about 90% shut, Marshall said. It was halted "about eight inches from the floor", pinning the actor down.
The then 71-year-old Ford needed surgery to screw together the fractured tibia and fibula bones in his left leg and plastic surgery on a "deep laceration" to his left hand.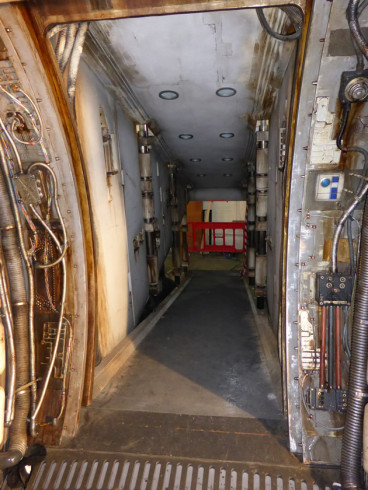 Marshall said the door was "capable of killing one or possibly two people".
Reading part of Ford's statement to the court, Marshall said: "The protocol was not followed and the scene was done differently to how it would be if it was to be closed."
The actor, who is understood to have already received substantial compensation from the firm, talked about the incident during an appearance on The Jonathan Ross Show, saying that in the original film a door would have been closed with a pulley and a stage hand, adding: "But now we had lots of money and technology and so they built a f****** great hydraulic door which closed at light speed."
Marshall said Foodles Production (UK) Ltd was a large company that had been created for the sole purpose of making The Force Awakens and had not made any profit. He said: "It's given a budget to make something, once it's made it it does not sell it, it hands it over."
A fine would not impact on the company's staff or local economy as it will eventually be closed down, Marshall added.
Charles Gibson QC, defending, admitted there was a "failure in communication" between the production team and Ford.
He argued the firm's culpability was in the medium category as there had been a risk assessment and safety plans in place. This was an innocent mistake by bona fide professionals," he said. "Lessons were learned. The good health and safety record of this production continued to the end."
HSE's Divisional Director Tim Galloway said: "This incident was foreseeable and preventable and could have resulted in more serious injury or even death. The power and speed of the door was such that, had Mr Ford or anyone else had been struck on the head by the door as it closed, they might easily have been killed."