Is it a plane? Is it a satellite? Is it a space weapon? All we know is it's a mysterious robotic space craft that's just clocked 500 days in orbit yet people are still none the wiser as to what it's for. Launched by the US military on 20 May 2015, the unmanned X-37B plane has been circling the Earth on a top-secret mission with no details on when it'll come back to land.
Part of the Air Force's orbital programme, the OTV-4 (which stands for Orbital Test Vehicle-4) is the fourth craft of its kind to stay in space for reasons unknown to those outside the hush-hush military project. The programme has been grabbing the attention of curious folk and conspiracy theorists since 2010 when the first robotic OTV was launched and spent 224 in orbit.
According to space.com, there was a following mission in 2011, which spent an extended period of time in orbit, coming back to Earth after 468 days. However, it was the third mission that piqued interests after spending close to 675 days in orbit without so much as a hint to its purpose. Each mission appears to get longer each time and with the 500 day mark already notched up for OTV-4, one wonders if it'll push things even further.
The solar-powered space craft, which has no pilot, is built by Boeing and bears resemblance to NASA's famous space shuttle, which was retired back in 2011 after 30 years of service, however it measures in much smaller at 29ft in length and a wingspan of 15ft (compared to 122ft and 78ft respectively).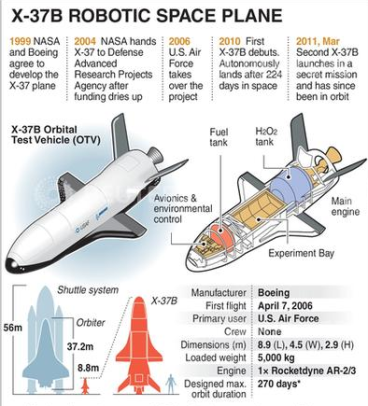 What is the X-37B doing in space?
Obviously, there's been much speculation and chin-stroking as to the craft's purpose with the immediate reaction being that it could be a weapon. Back in 2012 Dave Webb, chairman of the Global Network Against Weapons & Nuclear Power in Space claimed the X-37B "is part of the Pentagon's effort to develop the capability to strike anywhere in the world with a conventional warhead in less than an hour." The US military, however, was quick to dismiss the theory and "maintained that they use the X-37B to explore reusable space vehicle technologies in support of long-term objectives, such as risk reduction and operations development," said space.com
Other theories range from the OTV programme being a spy plane to a potential destroyer of enemy satellites, something that China is reportedly looking to launch into space themselves. Latest theories have claimed the vessel is testing out an experimental propulsion system.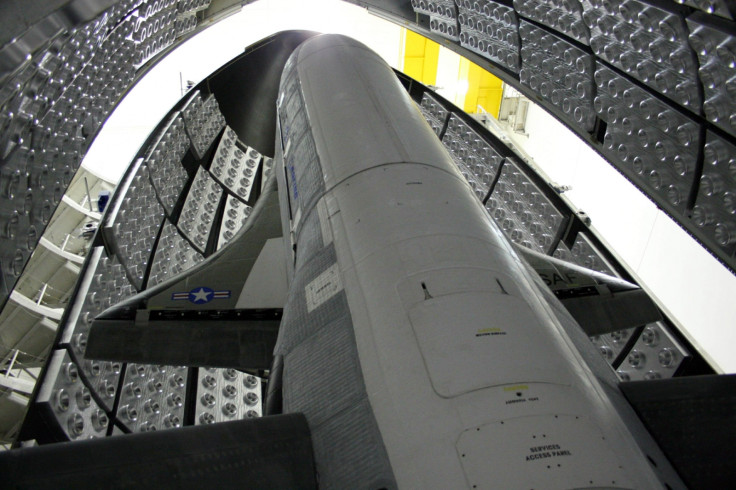 All three previous missions have returned to the Vandenberg Air Force Base in California but the ever-voluble US military have not confirmed whether this will land in the same location, or when. The truth is out there.