The final death toll in last week's mass knife attack in China's Xinjiang region was almost 100, it has been announced by the local government.
The region is remote and difficult for foreign journalists to reach, so full details are only just emerging of the horrific scenes which unfolded in Shache County on 28 July. The day after the attacks authorities said "dozens" had been killed, but the final death toll is higher than expected.
It is believed the militants attacked police stations and government offices, then attacked civilians in the street with axes and knives, setting up road blocks and coercing Muslims into joining the rampage.
A statement published on the official website of the Xinjiang regional government this morning said: "This was a serious terrorist attack incident which has links to domestic and overseas terrorist organisations and was organised, premeditated, carefully planned and evil."
The attack is believed to have been carried out by extremists from Xinjiang's Muslim Uighur people, who are of Turkic heritage and say their religion and culture are repressed. Theoretically autonomous, many Uighur want Xinjiang (formerly East Turkestan) to become an independent state.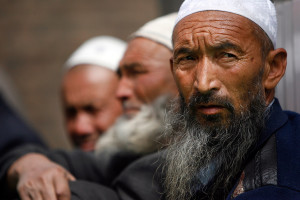 Separatists have carried out a number of attacks in the region recently, including a bomb attack in Xinjiang's capital Urumqi in May which killed 31. In March 29 people were stabbed by suspected militants at a train station in Kunming, Yunnan province. (WARNING: CONTAINS GRAPHIC SCENES).
In another sign of religious unrest in the area local media announced the arrest and killing of suspects in the murder of Jume Tahir, 74, a pro-government Imam of China's largest mosque in the Silk Road city of Kashgar on 30 July.
The website said: "Police have shot dead two suspects and captured another in their investigation of the murder of a religious leader in Xinjiang Uygur Autonomous Region.
"The killings and arrest happened as the suspects resisted arrest with knives and axes."