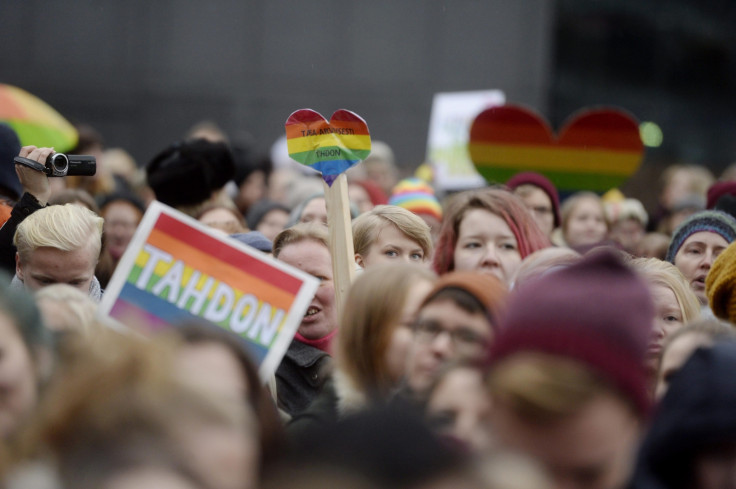 The Finnish parliament has rejected a citizens petition to repeal a law legalising same-sex marriages due to come into force in March.
With a majority of 120 to 48 votes, the parliament sided with the gender-neutral legislation that will end the distinction between same-sex unions and heterosexual marriages.
More than 100,000 people signed the Genuine Families petition promoted by the Association for Real Marriage, which demanded a repeal of the law arguing that children needed to have a mother and a father. A committee allowed for the petition to be debated in parliament and the discussion took place on Friday, 17 February.
"When the law parliamentary committee decided last week to send the initiative to the parliament's plenary session, it meant that once again the lives of same sex couples would be open to questioning," Finnish LGBT rights campaigner Nitin Sood told IBTimes UK. "However, the the crushing defeat of the attempt to nullify the equal marriage demonstrated that the Finland is committed to protecting families."
The law recognising same-sex marriages was passed in 2014 under the previous government, and it allows for same-sex couples to adopt children and share a surname. The landmark legislation was first introduced to Parliament through a citizen initiative in December 2013, called 'Tahdon', meaning 'I do' in Finnish, that gathered the support of 160,000 people. Despite a recommendation from the legal affairs committee to strike it down, the legislation was approved by parliament a year later.
Finland had legalised civil unions in 2002, but is the last of the Scandinavian countries to grant equal rights to married couples, regardless of their gender. Attempts to legalise same-sex marriages were rejected three times since 2006.
Green party lawmaker Ozan Yanar shared a photo on Twitter of Friday's vote, saying: "That was it! Parliament says 'I do'!"