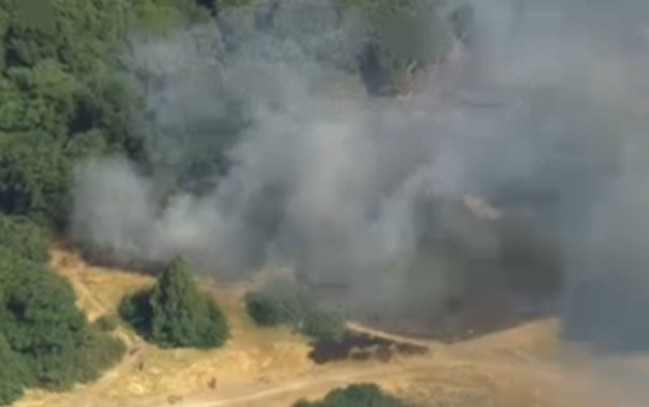 Soaring temperatures have set tinder-dry grassland on fire and sent a wall of flame roaring into the air near a hospital in east London.
Up to 120 firefighters and 16 fire engines were battling the fire in Whipps Cross Road, Walthamstow. Fire crews from all over east London were at the scene to deal with a blaze that covered an area larger than nine football pitches.
Two separate fires were burning in the area surrounding the hospital, said emergency services.
Eight appliances were called in from stations in Walthamstow, Ilford, Stratford, Homerton, Leyton, and Chingford.
Later, another fire broke out further along Whipps Cross Road, near Hollow Pond. Another eight fire engines went to tackle that fire from stations in Bow, Stratford, Ilford, East Ham and Leyton.
Emergency crews were still trying to bring it under control three hours later. Ambulance crews were also at the scene, with two paramedic cars on standby.
There had been no reports of injuries, an ambulance spokesman said.
London Fire Brigade chief Dave Brown said: "If you see a grass fire, don't attempt to put it out yourself as grass fires can be fast-moving and change direction without warning. Call the fire brigade.
"A small spark from a cigarette is often all it takes to start a grass fire in these dry conditions. It really is important that smokers dispose of their cigarettes properly. Drivers also need to take care not to throw cigarettes out of car windows as they can easily burn grass verges.
The number of grass fires have soared during the heatwave - up to 21 a day from five in the same period last year.
This summer, London Fire Brigade has tackled a total of 1,010 grass fires.
READ:
UK Heatwave: Thousands Set for Traffic Misery in Summer Holiday Getaway
UK Heatwave Close to Emergency as Met Office Raises Alert to Level 3
UK Heatwave Warms up Barbecue, Lollies, Suncream and Tourism Markets