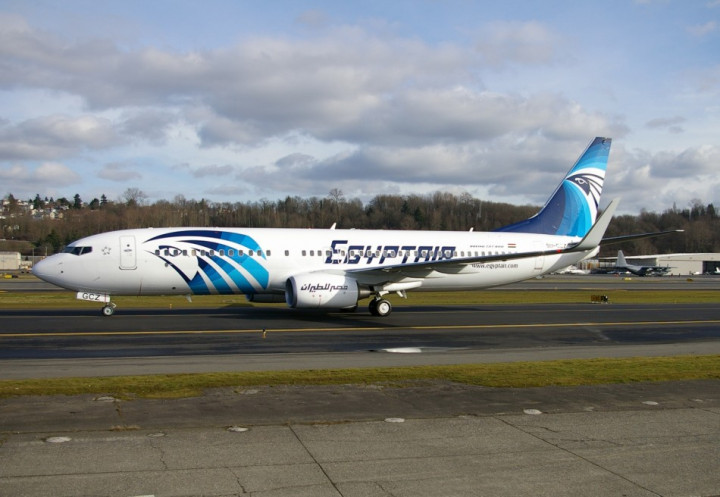 Five passengers have claimed asylum after a plane was forced to make an emergency landing in Scotland when crew were told of a threat to destroy it.
A spokeswoman for Police Scotland said five people did not get back on board, and had claimed asylum in the UK.
Speaking from Cairo, the chief executive of Egyptair identified the five people as Syrians.
The Home Office said it did not comment on individual cases. The whereabouts of the five passengers is not known.
The EgyptAir flight from Cairo to New York was accompanied to Glasgow's Prestwick Airport by British Typhoon fighter jets after an alarm was raised.
The threat was initially reported to be a bomb on board and the disposal squad were called out, but it was later revealed to be a threat to set the aircraft on fire.
It has since emerged that a letter containing the threat was found in the lavatory by BBC producer Nada Tafik, who said it looked like it had been written in "a child's handwriting".
Police Scotland have now revealed that five of the 300 passengers from the flight are seeking asylum in Britain.
Flight 985 landed in Scotland on Saturday 15 June.
The flight was met by a heavy police presence, but no arrests were made and the flight was eventually cleared to continue its journey to the US.
A police spokesman said after the plane was cleared for take-off on Saturday night: "Officers from Police Scotland have carried out an extensive search of the aircraft resulting in no suspicious items being found.
"Passengers and crew are now aboard and the aircraft is continuing its flight to New York.
"Officers continue to investigate the circumstances of the incident."
After the plane landed at 2.30pm, UK police spent six hours interviewing all 326 people on board.