Senior British Muslim leaders travelled to France to commemorate those killed in the 13 November 2015 Paris attacks, which left 130 people dead and hundreds more injured. The delegation, which included 16 Muslim and civic leaders from across the UK, gathered on the first anniversary of the attacks at the Bataclan to lay flowers at the theatre where 89 people were killed by Islamic State (Isis) suicide bombers.
Amina Inloes, a lecturer from the Islamic College in London and a member of the interfaith group, said the visit to the theatre was was an emotional one.
"Pain, grief, disbelief and horror were the emotions that enclosed us all, Muslims and Christians, while standing outside the Bataclan theatre," she said.
The trip to the Bataclan was preceded by a mass in Saint-Etienne-du-Rouvray where 85-year-old Catholic Priest Reverend Jacques Hamel was killed in the weeks following the Paris attacks. The Muslim leaders said the service showed the group's solidarity with the Catholic community, and following the service they held an open dialogue to address the local challenges faced faith organisations.
Dawood Masood, senior youth worker at the Al Hira Mosque Luton and one of the youngest members of the mission, said work needed to be done to make sure terrorists were not able to frame recent events through their narrative.
"Members of the delegation and the clergy were resolute not to let terrorists dictate the course of history and divide communities," Massood said.
On Sunday (13 November 2016), the first anniversary of the Paris attacks and also Remembrance Sunday, the Muslim leaders travelled to the graves of soldiers who gave their lives in the First World War. The day also marked the beginning of Inter Faith Week in the UK.
They paid their respects to Jewish, Muslim and Christian soldiers, all of whom are buried alongside each other in British cemeteries in France.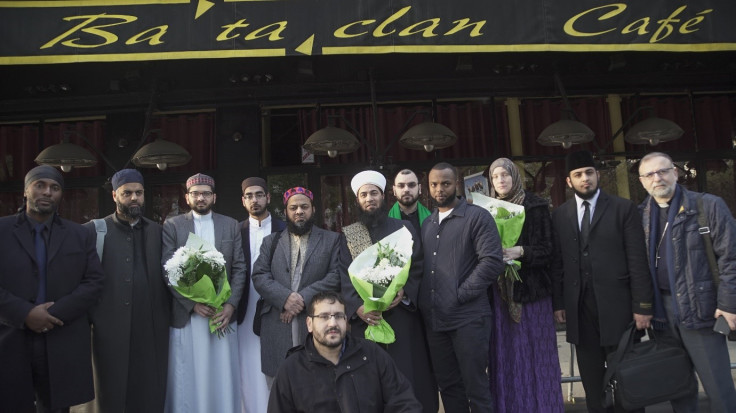 "This week, as always, Faith Forums stands with anyone who stands for unity," said Mustafa Field, director of Faiths Forum for London. "With these sorts of initiatives, the delegation hope to engage effectively with those of other faiths and none, as well as reaffirm the message of solidarity and co-existence that was reiterated throughout the trip," he added.
The delegation also attended the The Grand Mosque of Paris, meeting with the mosque's theological director and met with The Representative Council of Jewish Institutions in France.