Pope fast tracks canonisation of French priest slain by Isis
Pope to waive usual five year waiting period that must be observed before someone is considered for sainthood.
Pope Francis is to fast track the process of canonising an 85-year-old priest whose throat was slit by an Islamic State (Isis) supporter during an attack on a Normandy church.
Usually there must be a five year waiting period before a person can be considered for sainthood. However, the Pope told reporters in Azerbaijan that in the case of Father Jacques Hamel the process will begin immediately, as the witnesses may die or forget details in the interim.
Hamel was killed on 26 July, when two men stormed a church in Saint-Etienne-du-Rouvray during morning mass. A parishioner was also seriously injured in the attack, before both attackers were shot dead by police. The men pledged allegiance to Isis in videos released by the terrorist group after the attack.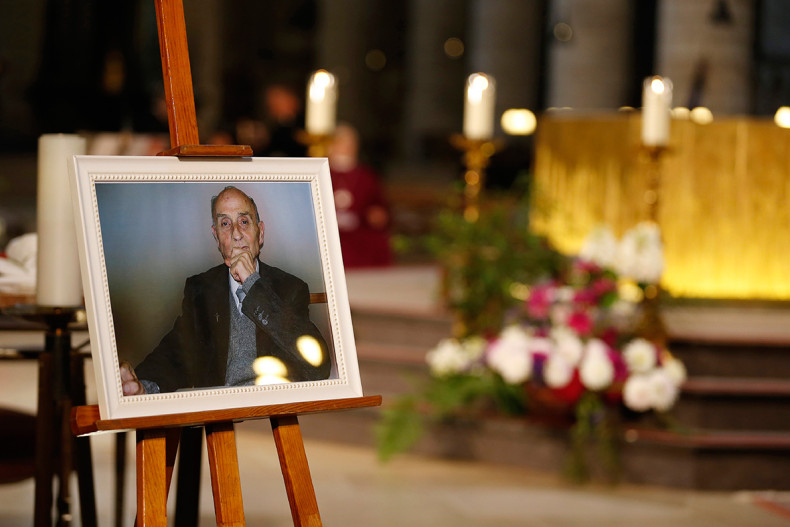 On Sunday parishioners gathered for the re-opening of the church following the attack. A rite was performed, "cleansing" the church through the sprinkling of holy water after its desecration, AFP reported.
The murder of Hamel followed an attack in Nice in the south of France days previously, in which an Islamic extremist drove a truck into crowds watching a Bastille Day fireworks display, killing 85.
How does someone become a Saint?
The process of becoming recognised as a saint in the eyes of the Vatican begins five years after death, or can begin immediately if a waiver is granted by the Pope. The bishop of the person's diocese will begin collecting evidence that the candidate lived their lives with sufficient virtue and holiness.
The Congregation for the Causes of Saints then scrutinises the evidence, and if it approves of the application, passes it to the Pope, who will consider whether the person lived a life of 'heroic virtue,' and can be bestowed the title 'venerable'.
'Beatification' is the next stage, in which a miracle needs to be attributed to prayers made to the individual after their death. A 'martyr', or someone who died for their faith, can be beatified without a verified miracle.
After beatification, the person acquires the title "blessed."
'Canonisation' is the final stage in the process of sainthood, and to reach it a second miracle must be attributed to prayers made to the candidate after they have been beatified.
Only a single miracle is required for martyrs to be canonised.