Yes, it's actually happening. Sony Pictures has released the first trailer for upcoming animation The Emoji Movie, featuring the voice talents of T.J. Miller, Anna Faris and James Corden. The clip also stars the voice talents of Sir Patrick Stewart himself as a bow-tied Poop with arms, legs and a pretty impressive quiff... This isn't going to be your typical children's movie, that's for sure!
Somewhat surprisingly, the film looks to have fairly decent story, what with Miller's Meh emoji Gene struggling to keep a lid on all of his other emotions aside from his assigned one. Looking – and more importantly – feeling one way his entire life doesn't quite sit too well with him... but he assures his folks that when the day comes for him to be the Meh emoji, he'll do them proud.
However, when the user of the phone he lives in goes to use the Meh emoji, Gene isn't quite ready and makes a face that his colleagues mock him for and question his purpose of being available on the device altogether. Much to his dismay, Gene ends up in the Loser Lounge, where rarely-used emojis such as the broom, the cactus and the eggplant reside.
Fed up with being treated like a second-rate citizen of Textopolis, he teams up with Jailbreak (Faris) and Hi-5 (Corden) in order to redeem himself and discover the true purpose of emojis. Their quest sees them venturing across many lands (or apps) in the phone too, such as Candy Crush and a particularly deadly Firewall. Think Wreck-It Ralph but with an iPhone and you're pretty much there...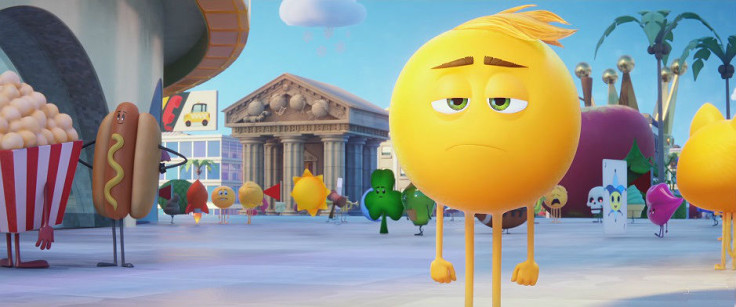 Directed by Tony Leondis (Igor) and also starring the voices of Jennifer Coolidge, Steven Wright, Maya Rudolph and Sofia Vergara, The Emoji Movie is released in the US on 28 July. It will reach UK cinemas on 4 August.