The CW has unveiled its first official look at Duet, the upcoming double-bill musical crossover between superhero outings, The Flash and Supergirl. And while most of the sneak peek is made up of footage from the pair's previous on-screen collaborations, the teaser trailer enthusiastically tells viewers: "You've seem them team up. Now, watch them get down," before offering up a glimpse at stars Grant Gustin and Melissa Benoist sharing a song and a dance!
Interestingly, the clip seems to depict the titular duo in 1940's attire but seeing as the story line is set to see Barry Allen and Kara Danvers find themselves in an alternate reality after being "whammied" by DC Comics villain Music Meister (played here by Darren Criss), that's nothing out of the ordinary.
Both Benoist and Gustin each have solo tracks lined up for the special event. The latter's having been penned by La La Land songwriters Justin Paul and Benj Pasek.
Considering that Criss, Gustin and Benoist all hail from comedy-drama Glee − a show where they regularly broke out into song − it's no shocker that they'll perform. However, they're not going to be the only ones...
Back in January, it was also confirmed that Jesse L Martin (who plays Joe West), Victor Garber (as Dr Martin Stein), Carlos Valdes (Cisco Ramon), Jeremy Jordan (Winn Schott), and John Barrowman (Malcolm Merlyn) will also be performing. David Harewood and Chris Wood, Supergirl's J'Onn Jonzz and Mon-El, will make non-singing appearances.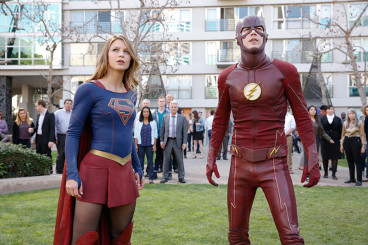 The crossover event – which will see the eponymous heroes and their friends go up against Darren Criss' villain Music Meister – will kick off at the end of Supergirl's episode on Monday 20 March in the US. However, most of the action will take place in The Flash's hour-long outing the next day. The same two episodes are expected to air in the UK on Sky 1 on Tuesday 28 March.
For more entertainment news follow A-List on Twitter @Alistinsider