The CW's long-awaited crossover event which will see Supergirl, The Flash, Green Arrow, and Legends of Tomorrow join forces to take down the Dominators is almost upon us and in the run-up, the television network has released a new full-length trailer.
During the expectedly comedic and action-packed clips, Supergirl (Melissa Benoist) quizzes her new allies on their names including both Firestorms (Franz Drameh and Victor Garber) and Heat Wave (Dominic Purcell), a character who is best known for being an adversary of Barry Allen's Flash (Grant Gustin), but is now a Legends recruit.
First seen in DC Comics back in 1967, the Dominators are members of the alien empire known as the Dominion; a technologically-advanced race who possess mind-reading abilities and invade Earth in the hopes of destroying all metahumans. Their reason? They believe that their unpredictable evolution poses an immediate threat to the state of the universe.
Martian Manhunter (who is currently a Supergirl character) is closely associated with the otherworldly creatures, having thwarted their plans of using a Gene Bomb to cause all metahumans to lose control of their powers and die. However, judging from the promotional material revealed so far, it doesn't look like he will be involved in the battle against them this time round, unfortunately.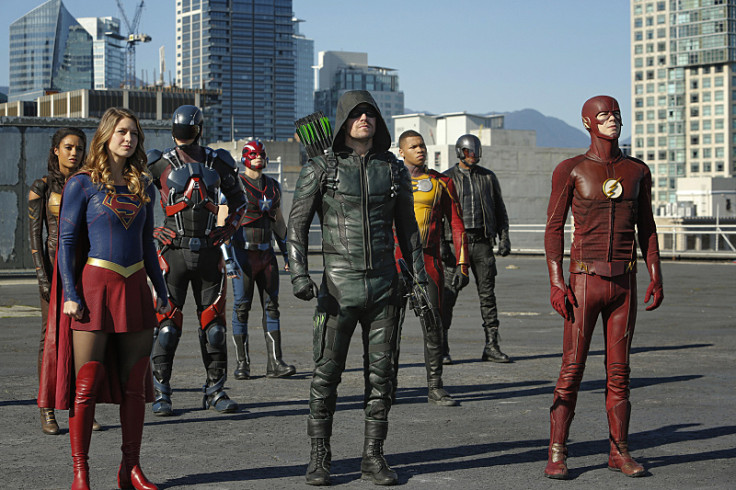 In case you haven't figured it out already, the event – dubbed Heroes v Aliens – will take place over four consecutive nights, starting with an episode of Supergirl on Monday 28 November, followed by The Flash's episode on Tuesday, Arrow's on Wednesday and finally Legends Of Tomorrow on Thursday.
While most of the episodes share the same title – 'Invasion,' named after the original comic series – Supergirl's episode is called Medusa, which makes sense given that Supergirl exists on a different Earth than the rest of the shows in the Arrowverse. Basically, it must have taken some creativity from the writers to work out how she becomes involved in their storylines... We think it's safe to assume viewers should expect some holes in the fabric of space-time...
For more entertainment news follow A-List on Twitter @Alistinsider