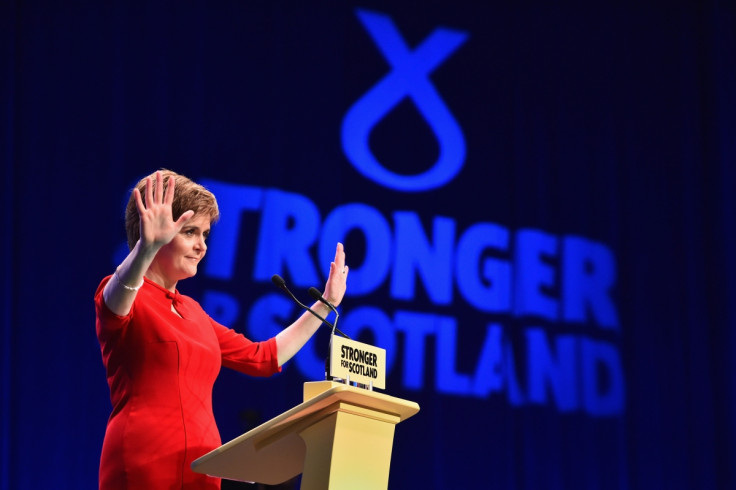 Leader of the Scottish National Party, Nicola Sturgeon, launched a stinging attack on Jeremy Corbyn and Prime Minister David Cameron today (17 October) – calling the leader of the Conservatives "pig-headed" for his stance on austerity. Sturgeon was addressing supporters of the SNP at their annual conference in Aberdeen.
Sturgeon's speech touched upon Trident – the UK's nuclear weapon deterrent – Syria and Conservative plans to cut tax credits. During her combative address, which lasted almost an hour, she poured scorn on the Conservative government, Labour, Ukip and Scottish Labour.
On David Cameron she said, "Pressing ahead with austerity, despite 50% of people in Scotland voting for an anti-austerity party. And voting down amendment after amendment to the Scotland Bill – against the views of the vast majority of Scotland's MPs.
"In fact, the Prime Minister's attitude to Scotland betrays the worst characteristics of his government – arrogant, patrician and out of touch. Pig-headed some might say.
"Make no mistake, tax credit cuts are right up there with the bedroom tax as the most iniquitous policy since Margaret Thatcher's poll tax."
Her jibe was a reference to claims made in a biography of Tory peer Lord Ashcroft, that the British PM once took part in an initiation ceremony for the Piers Gaveston society at Oxford University which involved inserting his penis into the mouth of a dead pig.
The SNP now boast a membership of more than 114,000 and has 56 MPs in parliament, whole Sturgeon herself has approval ratings of her tenure through the roof. She used the day to announce a number of new plans including earmarking £200m for new health treatment centres across Scotland, extra provision of childcare for nursery age children and passionately reiterated her stance that university education should be free.
Labour is 'changing' Corbyn
Sturgeon also took time to address concerns about Trident, and specifically Jeremy Corbyn's "incoherent" position. She said: "Their leader says – rightly – that he would never use nuclear weapons, but he is leading a party that is intent on supporting the renewal of Trident anyway.
"The renewal of Trident is unjustified. It is unaffordable. It is immoral. I don't mind admitting I had high hopes when Jeremy Corbyn was elected. I don't agree with him on everything.
"But I did hope he would change Labour. But, so far, Jeremy Corbyn isn't changing Labour – he's allowing Labour to change him."
The Ayrshire-born politician touched on David Cameron's "woefully inadequate" response to the Syrian refugee crisis. She added: "The Tories' toxic debate about immigration was surely one of the reasons that David Cameron's initial response to the Syrian refugee crisis was so woefully inadequate.
"Let us call again today on the UK to do more, as part of a co-ordinated European response, to deal with this humanitarian crisis. And let us pledge again that Scotland stands ready and willing to play our full part.
"What is needed is not more bombing, but a renewed and intensive diplomatic initiative, led by the UN, to seek a lasting resolution of the conflict and defeat the horror that is Isis. It is for these reasons that the SNP will oppose UK airstrikes on Syria."
During the speech, she also accused David Cameron of playing "fast and loose" with the UK's membership of the EU ahead of the referendum next year. She said: "David Cameron might play fast and loose with our place in Europe. But be in no doubt – the SNP will campaign positively for Scotland, and the UK, to stay in the European Union."