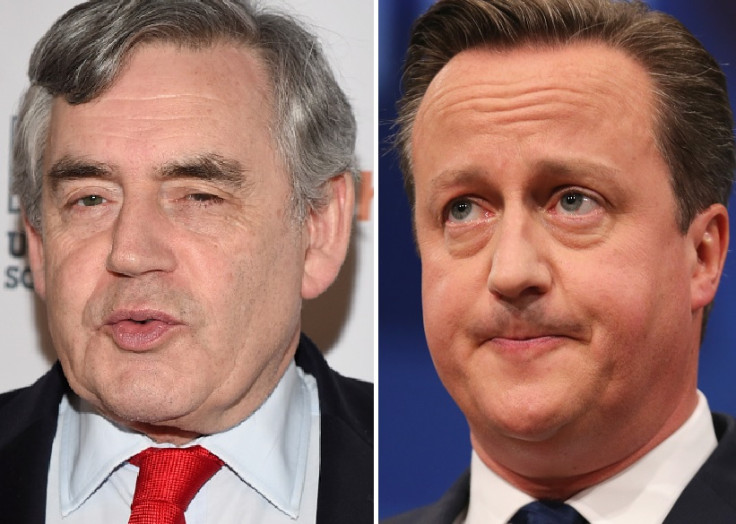 David Cameron must make good on his promise to devolve more powers from Whitehall to Holyrood or risk "blowing up" the historic union between England and Scotland, Gordon Brown has warned. The former Labour prime minister urged Cameron to give MSPs the ability to "top-up" benefits without the Department for Work and Pension's permission.
Brown issued the warning during a speech at the University of Glasgow on 8 October after the Conservative administration published the Scotland Bill, the draft legislation drawn up in the wake of the 2014 Scottish independence referendum.
Brown, who played a prominent role in the unionist Better Together campaign, claimed the Scotland Bill falls short of the promises Cameron made in the wake of the historic vote result, which saw 55.3% of Scots reject breaking away from the rest of the UK.
"The powers that the Scottish parliament were promised – and need but have yet to be given – are the clear and unambiguous right to top-up welfare benefits and an end to any suggestion that a UK government can prevent the Scottish parliament administering such change if it decides to do so," Brown said.
He added: "Without the changes that give the parliamentary welfare top-up powers to Scotland, we face a perfect storm – an explosive cocktail of measures that could blow the union apart – the Conservative government defying the Smith proposals on welfare, the very issue where their controversial imposition of cuts hits Scotland hard.
"The government should avoid what would be seen as a double betrayal – breaking their promises to the poor and breaking their promise to deliver the Smith recommendations in full on the very powers that are needed to counteract welfare cuts and the austerity they bring."
The comments come after the nationalist SNP used the momentum from the referendum campaign to sweep to victory in Scotland at the general election and secure 56 out of 58 seats north of the border. The separatists, who have 64 MSPs in Holyrood, are also expected to do well at the 2016 Scottish parliamentary elections.
Nicola Sturgeon's party is set to win 56% of the vote next year, according to the latest poll from TNS. The survey, of more than 1,000 voters between 9 and 30 September, also put Labour on 21%, the Conservatives on 12% and the Liberal Democrats 6%.
Scottish Labour, which has 38 seats in Holyrood, appointed Kezia Dugdale as its new leader in August after Jim Murphy resigned from the role after the party was reduced to just one MP following the election.