Tate Modern's new Turbine Hall installation should attract huge crowds to the gallery keen to lie on the floor again, just as Olafur Eliasson's dazzling sun did back in 2003. Called 'One Two Three Swing!', the installation by Danish collective SUPERFLEX features a giant pendulum, dozens of swings and a huge multi-coloured carpet that's perfect for visitors to lie down on as they photograph themselves reflected in the mirrored ball flying overhead.
This is bound to be an Instagram must-see as soon as it opens on 3 October. Visitors can also have a go on the swings, though one expects the queues for them may be almost as long as the ones for Carsten Höller's slides, which corkscrewed around the Turbine Hall in 2006.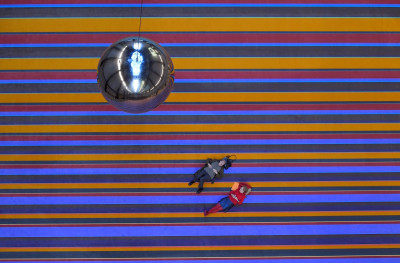 SUPERFLEX are based in Copenhagen and was founded in 1993 by Danish artists and Bjørnstjerne Christiansen, Jakob Fenger and Rasmus Nielsen. Their installation One Two Three Swing! will open to the public on 3 October 2017 and will be free to view in the Turbine Hall until 2 April 2018. You can read more about the latest Hyundai Turbine Hall commission at the Tate website.