President-elect Donald Trump met with Barack Obama on Thursday (10 November) as the US prepares for a transition of power.
Speaking to reporters while seated next to Trump in the Oval Office, Obama said his number-one priority was to ensure a smooth transition for the leader-in-waiting, commenting: "If he succeeds, the country succeeds."
He went on to say he was "encouraged" by Trump's apparent eagerness to "work with my team around many of the issues that this great country faces".
Trump responded by revealing he had "respect for the president", adding that they talked about some "wonderful things and some difficult things".
Asked if he would seek the advice of the outgoing president, Trump said Obama was a "very fine man".
He went on to boast of how long their meeting had been, saying it was scheduled for ten minutes but lasted for an hour and a half.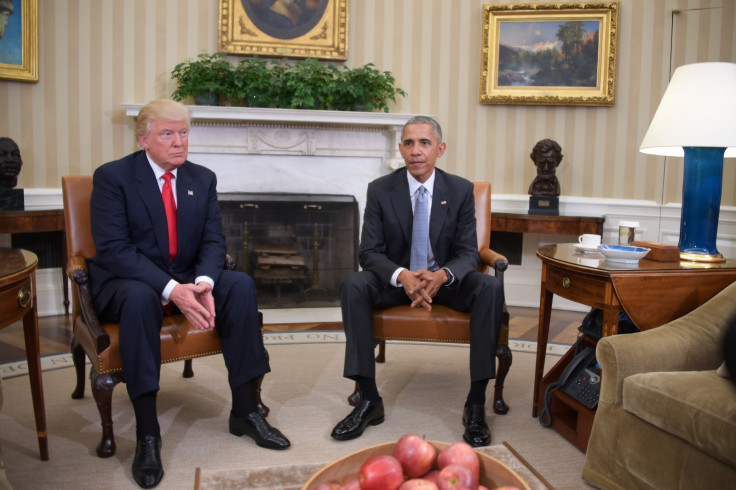 President Obama said the pair spoke about both foreign and domestic policy, with Trump understood to now be receiving classified intelligence reports and the President's daily brief in preparation his takeover in January.
The head-to-head was the first time the pair had met in person, with Michelle Obama also meeting the incoming first lady, Melania Trump.
Earlier in the day, White House press secretary Josh Earnest admitted the meeting between Trump and Obama "wasn't going to be an easy [one]", but said the President was keen to ensure a smooth transition to the next presidency.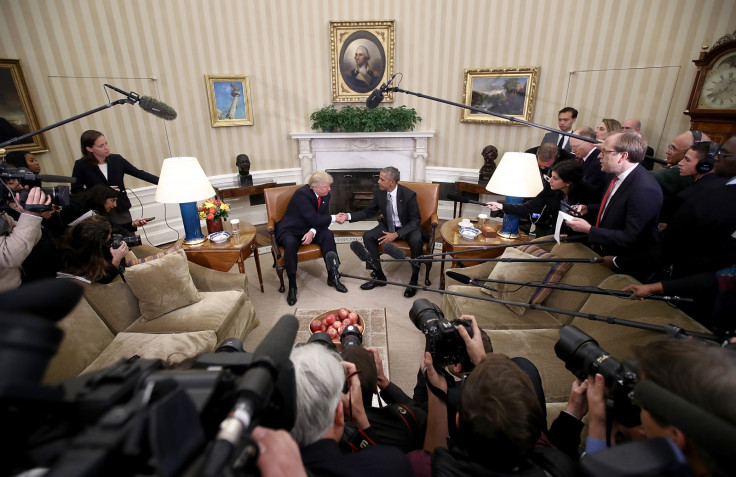 During the US Presidential campaign, the pair had exchanged blows, with Obama calling Trump dangerous and the former reality TV star describing the incumbent as perhaps the worst president ever, even saying he was responsible for terrorist group Islamic State.
But following Trump's extraordinary electoral victory the two struck a more conciliatory tone.
President Obama said: "As I said last night, my number one priority in the next coming two months is to try to facilitate a transition that ensures our President-elect is successful and I have been very encouraged by the interest by President-elect Trump's wanting to work with my team around many of the issues that this great country faces.
"I believe that it is important for all, regardless of party and regardless of political preferences, to now come together, work together to deal with the many challenges we face."
Trump described his meeting with President Obama as a "great honour".
He said: "We really we discussed a lot of different situations, some wonderful and some difficulties. I very much look forward to dealing with the president in the future, including counsel."
Trump now heads to Capitol Hill with Mike Pence, the Vice President-elect, where he will meet with Paul Ryan, the speaker of the house. His team will also be working to fill key roles in his new administration.