Was Russia in cahoots with WikiLeaks over Democrat emails? 'Maybe we helped a bit', admits Putin insider
Outgoing US government has accused Russia of attempting to influence the 2016 election.
A pro-Kremlin political analyst with close ties to the Putin-led state has claimed Russian forces may have "helped a bit" with recent email disclosures from WikiLeaks – an admission that will only fuel speculation about a co-ordinated effort to influence the 2016 presidential election.
Sergey Markov, previously described as an "informal adviser" to Russian President Vladimir Putin, spoke out following the rise to power of Donald Trump, who successfully won the US presidency on 9 November after facing off against Democratic Party nominee Hillary Clinton.
It was an election defined by its cyberattacks, leaks and accusations of state-backed foul play. WikiLeaks, which obtained tens of thousands of emails from the Democratic National Committee (DNC) and close Clinton aide John Podesta, made headlines by releasing troves of data online.
Markov branded the outcome of the election as "a great day for American democracy". As with previous denials from both Putin and Assange, the analyst rubbished any claims of state involvement, yet also teased: "Maybe we helped a bit with WikiLeaks."
He also indicated that Trump's administration may be beneficial to Russian interests. At the same time, Putin welcomed the new commander-in-chief, calling his appointment a chance to restore "fully fledged relations" between the two countries.
In response to the latest comments by Markov, WikiLeaks' official Twitter account brushed off the accusations, commenting: "Contradictory translation of a pundit repeating the 'maybe' speculations Clinton aligned media have been pushing? This is news?"
On 10 November, it came to light that Russian officials were in contact with President-elect Trump's campaign team in the run-up to the election. Sergei Ryabkov, Russian deputy foreign minister, told the Interfax news service: "There were contacts. We continue this work, of course."
Unlike the Democratic Party campaign, which reportedly refused similar meeting requests, Foreign Ministry spokeswoman Maria Zakharova told Bloomberg that Russian embassy staff met with Trump's staffers, however described it as "normal practice."
Previously, US intelligence formally accused "Russia's senior-most officials" of orchestrating a series of cyberattacks against political entities in America with the aim of swaying the November vote. It namechecked WikiLeaks, DCLeaks and Guccifer 2.0 as probable accomplices.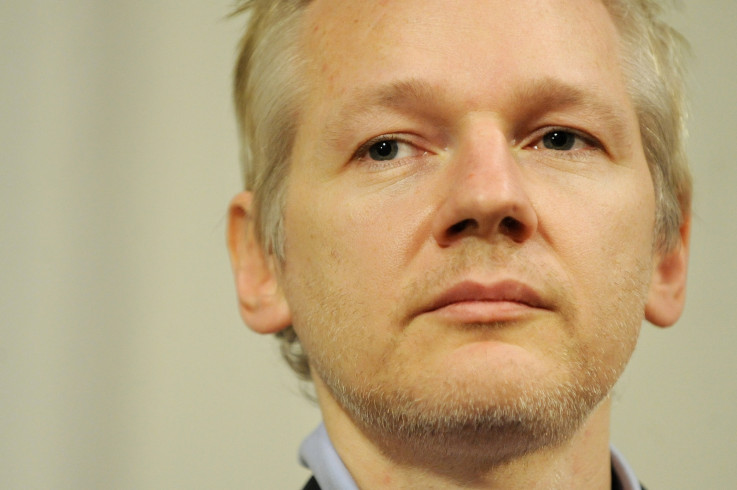 Assange has slammed any suggestion he is working in the interests of Russia
BEN STANSALL/AFP/Getty Images
In a blog post published on 8 November, Assange spoke out against the US government's accusations by reasserting there had been no solid evidence to back up any claims that his organisation is working alongside the Kremlin or in the interests of Russian intelligence.
He wrote: "The Clinton campaign [...] pointed to unnamed sources or to speculative and vague statements from the intelligence community to suggest a nefarious allegiance with Russia. The campaign was unable to invoke evidence about our publications — because none exists."
Now, even as Trump's transition into power takes place, WikiLeaks has continued to release more Podesta emails. On 9 November, it released 'Part 36' into the wild.
Previous releases have included Hillary Clinton's speeches to private banking giants and Wall Street, insight into the links between the Democrats and Google and even claims that Qatar and Saudi Arabia were both offering "clandestine" funding to the Islamic State (Isis) terror group.