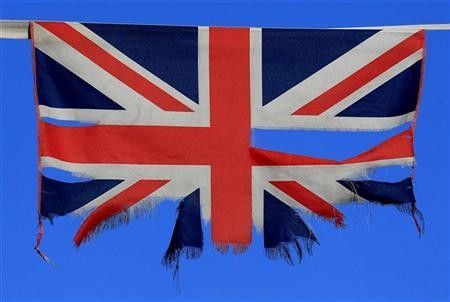 Fitch Ratings delivered another blow to UK Chancellor George Osborne, after axing Britain's coveted triple A status on weak economic growth performance, a shrinking private and public sector and the impact from the ongoing Eurozone debt crisis.
In a statement on the ratings agency's website, Fitch says the group downgraded Britain to AA+ status on a weaker economic and fiscal outlook, which has driven upward revision to Fitch's medium-term projections for UK budget deficits and government debt.
Fitch also revised down its forecast for UK economic growth in 2013 and 2014 to 0.8 percent and 1.8 percent, respectively, from 1.5 percent and 2.0 percent at the time of the last review of the UK's sovereign ratings in September 2012.
"The UK economy is not expected to reach its 2007 level of real GDP until 2014, underscoring the weakness of the economic recovery," it says.
However, Fitch says the UK has lost its AAA status, Britain has an "extremely strong credit profile," which is also reflected by the Stable Outlook provision.
"The UK's 'AA+' rating is underpinned by its high-income, diversified and flexible economy as well as a high degree of political and social stability. The monetary policy framework as well as sterling's international reserve currency status afford the UK a high degree of financial and economic policy flexibility," says Fitch.
"Strong civil and policy institutions and a high degree of transparency enhance the predictability of the business and economic policy environment that compares favourably with peers in the 'AA' category," it adds.
The ratings action follows closely behind rival agency Moody's Investor Services' downgrade of Britain in February this year.
When Moody's axed Britain's AAA debt rating for the first time, it dealt a major blow to Chancellor George Osborne just weeks before his make-or-break budget statement.
Moody's was the first of the three major ratings agencies to lower the coveted triple-A grade following slower than expect economic growth, a rising budget deficit and higher overall borrowing by the Conservative-led coalition government.
"Despite considerable structural economic strengths, the UK's economic growth will remain sluggish over the next few years due to the anticipated slow growth of the global economy and the drag on the UK economy from the ongoing domestic public- and private-sector deleveraging process," said Moody's. "The sluggish growth environment in turn poses an increasing challenge to the government's fiscal consolidation efforts, which represents the second driver informing Moody's one-notch downgrade of the UK's sovereign rating."