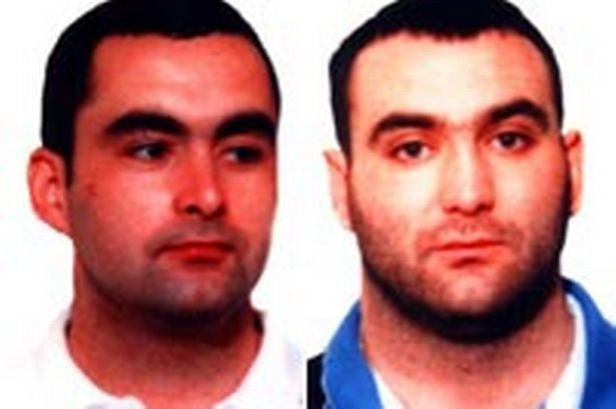 Three members of Liverpool's notorious Fitzgibbon crime family will be sentenced today over a plot to smuggle £7 million of heroin into Britain.
Brothers Ian and Jason Fitzgibbon and their mother, Christine, were caught after authorities seized 126lb (57kg) of the class A drug in Turkey, beginning a trail that led back to Liverpool.
A listening device was planted inside the family's home in an affluent Merseyside suburb, and the family "convicted themselves by their own words, in their own house", police said.
Officers found £137,000 in cash stuffed under the floorboards at the property.
Jason, 40, of Crofton Mansions, Crofton Estate, North Sudley Road, Liverpool, pleaded guilty to conspiracy to import heroin and Ian, 39, of Heigham Gardens, St Helens, admitted conspiracy to supply heroin.
The brothers - both fathers-of-three - will be sentenced at Manchester Crown Court, along with their mother and several associates.
Christine, 60, of Edale Road, who claimed £1,500 a month in benefits with husband William, pleaded guilty to money laundering.
Matt Burton, of the Serious Organised Crime Agency in the North West, said the family "revelled in their notoriety".
He said they "held a very tight rein on areas of Liverpool for quite a number of years".
"They thought they were untouchable," said Burton. "Their motive? Financial greed, and greed in terms of their status and notoriety."
The family had a network of international contacts across Europe and South America, sent criminal associates on overseas deals and even monitored exchange rates to optimise profits.
In an attempt to cover their tracks, the brothers would travel on false passports and by circuitous routes, booking flights they never caught and which they paid for with cloned cards.
'Logistics'
Jason was in charge of transport, while Ian dealt with logistics, sources said.
"If they were to have channelled their thoughts and efforts into a legitimate business I have no doubt they'd be very wealthy individuals," Burton added.
"What we have here is a criminal family running a criminal business. Mum, very much the company director, finance director and consultant. Father a consultant, adviser to the two brothers. And the brothers, very hands-on managing directors involved in source countries and face-to-face meetings.
"Mum, as the finance director, would be well aware of the exchange rate between the euro and the pound. She would be aware of the impact of that in any importation.
"She's very acutely aware of our tactics... and would advise her sons on forensic strategies and ways to avoid detection.
"But these individuals have convicted themselves by their own words in their own house."
The family was traced after five suspected drug traffickers were arrested in a Turkish police operation in September 2011. Officers found 57kg of high-grade heroin wrapped hidden in a car boot.
After their arrest, one of the Turkish conspirators were overheard making comments linking them to Jason Fitzgibbon, who had visited Turkey several times.
The Fitzgibbons were caught as part of Operation Bistro, an investigation into drug dealing and associated money laundering between 2008 and 2011.
One of the exchanges recorded by police included an argument between the brothers over who was the better drug dealer.
The Serious Organised Crime Agency (Soca) said: "The scope of the enterprise was truly breathtaking. Those involved had established criminal networks not only in the United Kingdom but in foreign countries including Turkey and Holland."
Police say the Fitzgibbon brothers, both of whom have served eight-year prison sentences for drug supplying offences, also had contacts in Colombia and Mexico.
Daniel Smith, 26, of Warren Road, Liverpool, and Neil Harrison, 40, of Capella Close, Liverpool, will appear alongside the three Fitzgibbons at court to be sentenced for offences of conspiracy to supply drugs. Neil Williams, 32, of Wellington Court, Liverpool, will be sentenced for money laundering.