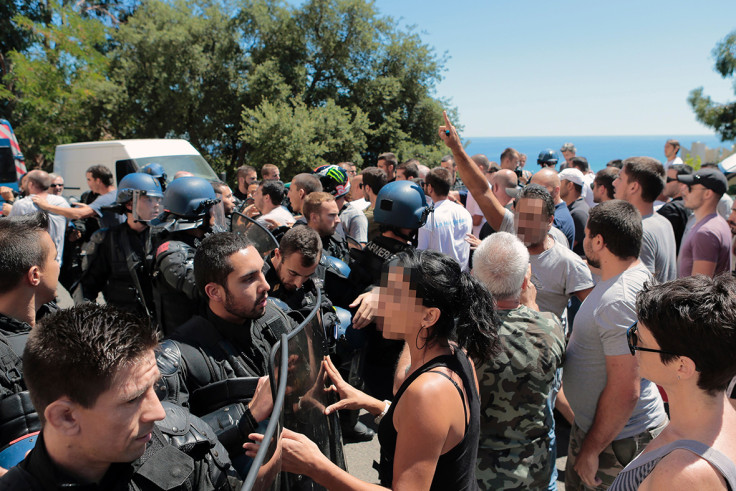 Corsica has been left reeling after five people were injured in riots between north Africans and locals on the French, Mediterranean island, apparently sparked when tourists took photos of several Muslim women bathing in burkinis. In response to the initial violence, which saw cars burned during the confrontation between young locals and the families of North African origin, 500 gathered near Bastia, the capital of the Bagnaja region, some of them attempting to march upon the city's North African and Muslim districts.
The dispute centred around three families and young locals, according to statements from prosecutors.
According to reports in the local.fr and one point during the fray two people were injured after they were shot with a harpoon.
One witness who saw the clashes in the northern part of the island at Sisco and then later attended the rally in the capital said stones and bottles were thrown at a group of young Corsicans aged 15 to 18 on the beach.
The young Corsicans' families then took to the streets, setting alight the North Africans' cars, turning them over and slashing their tyres.
Finally, 100 police had to be deployed to head-off the violence. French Interior Minister Bernard Cazeneuve condemned the attacks, and pledged a full investigation "to shed light on these intolerable deeds and to arrest those responsible". At present no arrests have been made in connection with the violence.
The clashes come amid increasing tensions particularly in southern France between the Muslim and wider community. On 14 July 86 people were killed in the city of Nice, in an attack that was later claimed by the Islamic State.
In December Corsican protesters vandalised a Muslim prayer hall and destroyed copies of the Koran after an assault on firefighters that was blamed on local youths of Arab origin