As Barack Obama prepares to hand over the reigns to Donald Trump, the 44th President of the US circled back to the message of hope that saw him make history. His final address in Chicago even ended with the slogan that first carried him into the halls of power: Yes We Can.
Just two days before the inauguration that will see Trump take his place in oval office, Obama held his final press conference in the White House briefing room. A week after Trump's combative press conference that saw him attack CNN as "fake news" and blame US intelligence services for an unverified memo of allegations against him, Obama took a calmer stance, ending with a simple message to the White House press corp: "Good luck".
But the conference varied around a number of hot topics, from Russia to Cuba to Chelsea Manning. Here are the major quotes:
"Chelsea Manning has served a tough prison sentence"
Obama said that although one of his finals acts in his last days as president has been to commute the sentence of convicted former soldier Chelsea Manning, that does not suggest that leaking information goes unpunished: "The notion that the average person who was thinking about disclosing vital classified information would think that it goes unpunished I don't think would get that impression from the sentence that Chelsea Manning has served"
Manning has served seven years of a 35 year sentence and will be getting out in May 2017 instead of 2045.
"Don't confuse why these sanctions have been imposed"
After Trump suggested that he would lift US sanctions on Russia in return for a deal on nuclear arms reductions, Obama retorted that the reasons those sanctions had been imposed was not to do with nuclear weapons: "it was because the independence and sovereignty of a country, Ukraine, had been encroached upon by force, by Russia."
The president also reflected that he had tried to have a "constructive" relationship with Russia during his presidency, but that Putin's return to power saw an "escalating anti-American rhetoric" which helped a return to the "adversarial spirit" of the Cold War.
"There's a difference between that normal functioning of politics and certain issues or certain moments where I think our core values may be at stake."
Though he batted away the suggestion that he would be running for office again, Obama took a marked turn from other former presidents by saying there may be things that "would merit me speaking out".
US Presidents tend to drift out of public eye and keep quiet after their time in office. Obama said that there were issues that he would leave to the new administration – ones that he considered "normal parts of the debate" – but that a certain category of issues would cause him to get involved. They include "systematic discrimination", "functional obstacles to people being able to vote", "institutional efforts to silence dissent or the press" and "efforts to roundup kids who have grown up here and for all practical purposes are American kids" – a reference to suggestion that Trump may overturn the DREAM Act, an Obama executive order that gave a path to citizenship for people who had arrived as undocumented children in the US.
"We cannot force the parties to arrive at peace."
Obama said that he wanted to "preserve the possibility of the two-state solution" with regards to the Israel-Palestine conflict "because we do not see an alternative to it."
"If you do not have two states, then in some form or fashion you are extending an occupation". Obama was not explicit in condemning efforts by the incoming administration to take a different line with regards to Israel, but he did give warnings that "it's a volatile environment"
"What we've seen in the past is when sudden unilateral moves are made that speak to some of the core issues and sensitivities of either side, that can be explosive," the president said, adding that he had attempted to provide "context" to Trump in the transition.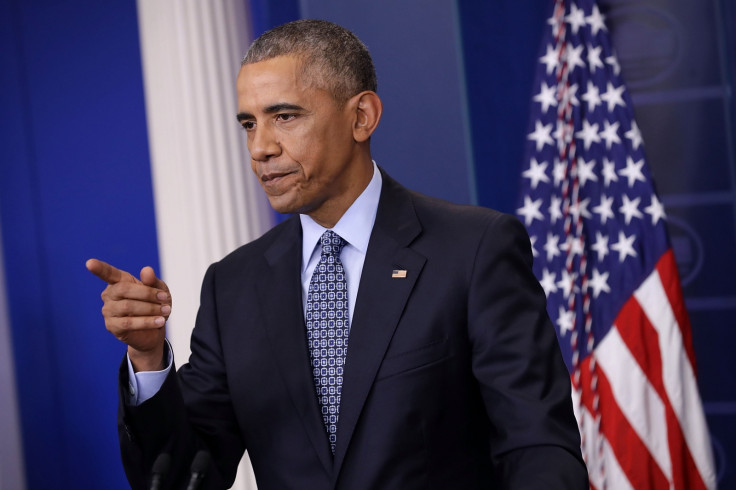 "I worry about inequality"
The outgoing president talked at length about how proud he was of his achievements on LGBT rights, including a special mention for talk show host Ellen DeGeneres whom he gave the presidential medal of freedom. He added that because of the changed attitudes of young people, he did not think that progress in LGBT would now be reversible in American society.
But he did not suggest that the fight was over, saying there were still "battles that need to take place".
He went on to say that if the US keeps "opportunity open to everybody" it will help the economy but adding that he did not mean it "just along racial lines."
"There are a whole bunch of folks who voted for the president-elect because they feel forgotten and disenfranchised... you don't want to have an America in which a very small sliver of people are doing really well, and everybody else is fighting for scraps, as I said last week. Because that's often times when racial divisions get magnified."