It's Christmas Day, presents have been unwrapped, stomachs are fit to burst, the family elders are dosing in front of whatever animated film happens to be on after the Queen's Speech. All is still and tranquil, but it can't stay that way. "GET UP, IT'S TIME TO PLAY SOME GAMES!"
Traditionally families play charades or Trivial Pursuit, but after so many years you know all the questions in the latter and the generational gap is too big for the former: your nan is as clueless about The Hunger Games as your little cousin is about The Third Man.
Below we've listed some video game alternatives to play with family that won't require half an hour of explanation to granddad, and some others you'd be best off playing with friends or family members of a similar age.
The Jackbox Party Pack (1-4)
There are four Jackbox Party Pack games, each with a collection of games designed to be played over a local Wi-Fi connection with phones, rather than controllers.
Not every game is a hit, but Fibbage - available with each pack - absolutely is. The game is simple and works a treat. It puts questions to its players and asks them to come up with wrong answers to try and trick their opponents. You win points for doing so, and for picking the correct answer, with the amount of points on offer doubling every few rounds.
In Pack 1 there's also the excellent Drawful, which sees players guessing the prompts that inspired each other's drawings and working collaboratively on others. Pack 2 and 3 feature versions of Quiplash, in which players compete to be the funniest.
Pack 4 meanwhile introduces Survive the Internet, about taking opinions taken out of context to make fellow players look bad.
Gang Beasts
Earlier this month early access favourite Gang Beasts finally got a console release on PS4.
The game is a multiplayer brawler without anything remotely resembling finesse. Players are cast as podgy brawlers - think the Lurpak guy if he let himself go and had a chip on his shoulder - and have control over their jump and each arms.
With them they can grab and punch with surprising force. Knockouts are frequent but short-lived, so capitalise by picking up an opponent and throwing off each stage to certain doom and elimination.
With a tonne of looks for your gang beasts (is that what they're actually called?) and some great stages (the highway and Ferris wheel levels are highlights) Gang Beasts is a constant delight.
Mario Kart 8 Deluxe
Mario Kart 8 is the best Mario Kart game to date, and earlier this year Nintendo gathered up Wii U version with all its DLC tracks and characters, threw in some brand new content and released the best version of the best karting gaming. If you have a Switch, or even if you have the Wii U version, Mario Kart never fails.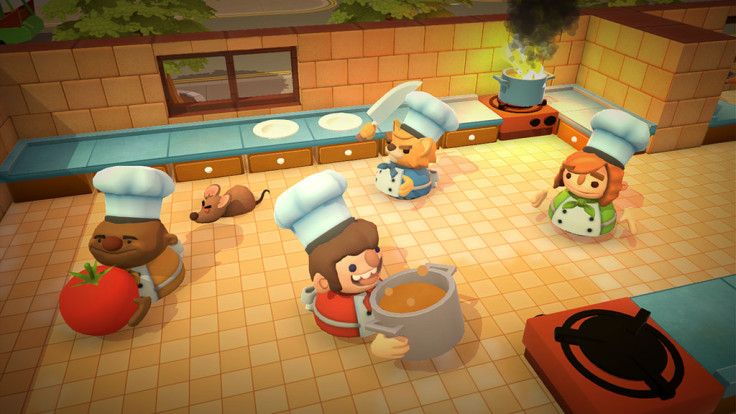 Overcooked
Multiplayer isn't only about competition, it can be about co-operation. Enter Overcooked, one of the shared-screen delights of recent years, which casts players as tiny chefs who must work together to prepare, cook and serve food, clean plates and - inevitably - put out fires.
Ghost Town Games is one of the best multiplayer games in years, and they've been justly rewarded with numerous award nominations and big wins at the TIGA Games Industry Awards and Bafta Game Awards.
Keep Talking And Nobody Explodes
One for the PlayStation VR owners or those with powerful enough laptops. Keep Talking and Nobody Explodes is a wonderful blend of virtual and real game. One player is put into a room with a bomb covered in fiendish puzzles, everyone else has the means to solve them.
The key is communications, and it's not nearly as easy as it sounds. Flipping through the printed manual and bickering will hinder those without the wire-clippers, while the defuser contends with impatience and the occasional distraction.
The point of this game is that only one player can see the bomb, meaning it can only be played on PSVR or on laptop.