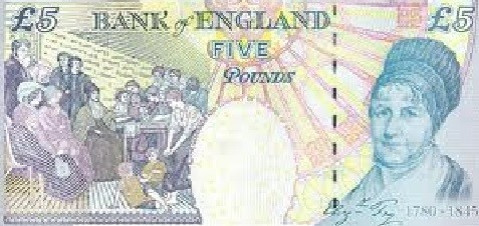 A woman's face could feature on the next issue of the £5 note according to a Bank of England "contingency plan" drawn up following a furore over the choice of Sir Winston Churchill to appear on the note.
The identity of the female icon remains a mystery after the Bank said revealing it could prejudice future selection processes.
Bank of England Governor Sir Mervyn King's decision to replace Elizabeth Fry, the philanthropist and prison reformer, with the wartime leader has led to an online petition and threats of legal action under the Equality Act.
Fry is one of only two women selected since historical figures were introduced in 1970. The other was Florence Nightingale.
Yesterday 46 MPs and peers urged the Governor to review the decision. Campaigners are demanding that Fry be replaced with Mary Wollstonecraft, the 18th-century writer, or Mary Seacole, the Jamaican-born nurse from the Crimean War.The Bank instead disclosed that Churchill was picked as well as a female "contingency candidate".
The woman is almost certain to be among a list suggested by the public and compiled by the Bank. Among the 83 names are Jane Austen, Emmeline Pankhurst, the Brontë sisters and Ada Lovelace, the world's first computer programmer.
The final decision will be made by the Governor, who is advised by Chris Salmon, the chief cashier, and the Bank's notes division.
Candidates are chosen using four criteria: they must be uncontroversial; there must exist suitable artwork on which to base a pictorial representation; they must have made a universally recognised contribution with enduring benefits; their name must be broadly recognised.
King, who makes way for incoming governor Mark Carney at the end of the month, announced his decision at Chartwell, Churchill's home, in April. He described the "truly great British leader, orator and writer" as "entirely appropriate" on what is "probably our most popular note".
He has since defended his decision, saying it was taken "on the basis of choosing the right person and not on the basis of an artificial distinction by gender".
King added that the banknotes "all have a woman - the Queen".
Women's rights advocate Caroline Criado-Perez, who is raising funds for a legal challenge, called King's remark a "spectacularly asinine point to make".
She added: "Whatever we think about the Queen's hard work, she's there on the basis of birthright, not on the basis of her achievements."