Zimbabwe's police has arrested five activists in the capital Harare without clarifying the charge, activists have confirmed.
The six activists were wearing T-shirts emblazoned with the message, "#The Endgame, A new Zimbabwe is possible" when they were arrested in Harare Gardens and bundled into a police vehicle, the NGO Zimbabwe Human Rights Association (ZimRights) said in a statement on 14 October.
After taking a selfie picture of themselves in the back of the police truck and spreading an alert on social media, ZimRights said it was still unclear where the activists had been taken to, or why.
The activists, Patson Dzamara, Makomborero Haruzivishe, Linda Masarira, Rangarirai Nhende and Leverage Masvondo.
Pro-democracy campaigner Masarira, who many describe as President Robert Mugabe's nemesis, was released on late last month after she was incarcerated on 6 July over her participation in anti-government demonstrations rocking the African nation.
ZimRights: 'Arrest violates Zimbabwean law'
Dzamara, whose brother Itai, a journalist turned activist was abducted on 9 March 2015 after leading protests in the capital calling for Mugabe to step down, claimed that the police had not informed the group of their charges.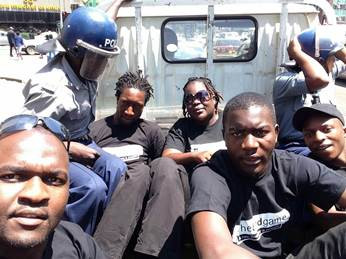 The NGO said the arrest is a violation of the Article 50 of the Zimbabwean Constitution and section 41 of the Criminal Procedure and Evidence Act, which stipulate that law enforcement agencies must promptly inform arrested persons of the reasons and allegations necessitating the limiting of their freedoms by being put in custody.
According to Dzamara's testimony, a police officer told the group that the order to arrest them had come from "above".
In its statement, ZimRights expressed indignation at "the continued scuttling of citizens' free movement and freedom of expression through arbitrary arrests by the police without clear cause".
The organisation added: "The continued disregard of the requirements of the law in terms of the arrests of activists is a gross subtraction from the rule of law."