The leader of Zimbabwe's Tajamuka protest movement has welcomed the release of pro-democracy campaigner Linda Masarira, who had been incarcerated since 6 July over her participation in the anti-government demonstrations.
In a country where the ruling Zanu-PF party has been accused of carrying out terror campaigns to muzzle opponents, mother-of-four Masarira was charged with allegedly obstructing or endangering free movements of persons or vehicles during the #ShutdownZim2016 anti-government protests.
High Court judge Justice David Mangota ordered the release on bail of Masarira – who many describe as President Robert Mugabe's nemesis – on 26 September after her case was repeatedly postponed by lower courts.
The strong advocate for human rights, particularly women's rights, Masarira was not released immediately, but is expected to walk free after appearing at Mbare Magistrates' Court today (27 September) for another pending case.
"We are very glad about the release of Linda. She is a very brave woman, which is very significant because the political combat in Zimbabwe is to a large extent a male-dominated arena. Linda has shown that she is absolutely stronger than men and that she is a pillar of the Tajamuka movement," Promise Mkwananzi, spokesman of #Tajamuka campaign, which organises mass protests together with the #ThisFlag movement, exclusively told IBTimes UK.
According to state prosecutors, Masarire was an organiser of the violent protests that rocked Harare in the first week of July this year, effectively becoming a symbol of resistance in Zimbabwe, where the regime is struggling to contain months of protests.
"Linda has fought a very good fight, she acclimatised just fine in prison. Psychologically she was much stronger than expected: despite having four children she stayed grounded in order to serve the country the way that she has done. She has shown the people that we are getting there: she is innocent, not matter how she was [portrayed], automatically justice proved that over other imaginary [claims]."
'A victory for women and democracy' in Zimbabwe
The founder of the Zimbabwe Women in Politics Alliance (ZWPA), a lobby group which carries out human rights awareness campaigns as well as training programmes, Masarira was detained at Chikurubi Female Prison after she was denied bail on 9 July 2016 at Mbare Magistrates' Court.
Speaking from the capital Harare, Mkwananzi said the release was "a victory not just for women, but also for all of us and for democracy". "It's a big defeat for the regime but a victory for justice. Gradually, we are getting the sort of High Court that any constitutional democracy should have," he explained.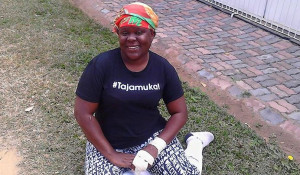 A vocal critic of what he has at times considered to be an "unfair" justice system, Mkwananzi welcomed Justice Mangota's decision. "What we are seeing is that the lower court has proved very subservient to instructions from the government, and the higher court, the Constitutional Court and the High Court are seemingly insisting on the protection of the law and that activists' detentions are unlawful. The High Court, for instance, has been very clear that unless there are compelling reasons, nobody should be deprived from his or her freedom," he added.
"Her liberation is a good sign for all other activists – those currently detained and those who are outside. It's important for them to know that the law is applied uniformly to all Zimbabweans, whether they are in opposition of the ruling party or not. It's also important for them to know that they can and should have the protection of the law regardless of where they stand politically."
Some 50 activists from Tajamuka, who were arrested and sent to prison, have now all been granted bail by the High Court, Mkwananzi confirmed.
Last week, IBTimes UK spoke to Silvanos Bhanditi Mudzvova, who is seen as a vocal activist within the Tajamuka movement, after he was allegedly abducted and tortured by unidentified men he described as members of the state's security apparatus.