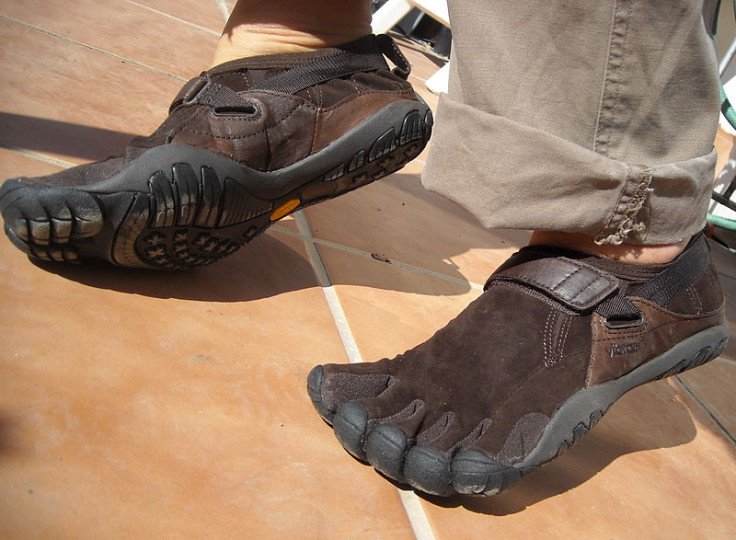 Vibram, the makers of the FiveFingers running shoes, have settled a $3.75 million class action lawsuit over false advertising.
The firm may be forced to pay out compensation to customers after admitting the shoes do not have any scientifically-proven health benefits.
Over 70 million Americans have purchased the "barefoot running" shoes, including Kate Hudson, Hugh Jackman and Scarlett Johansson. James Cracknell, the British rowing champion and double Olympic gold medallist, is reportedly also a fan.
The thin-soled shoes, which feature five-toes and cost around $100 a pair, were said to mimic the experience of running in bare feet and therefore improve foot health.
This claim was found to be unsubstantiated, after a lawsuit was first filed by Valerie Bezdek in March 2012. According to court filings, Bezdek claimed that Vibram used deceptive marketing and falsely advertised several false benefits.
Without basing its claims on scientific research, Vibram claimed the shoes would strengthen muscles in the feet and lower legs, improve a range of motion in the ankles, feet and toes and stimulate neural function important to balance and agility.
The company also stated the shoes would eliminate heel lift to align the spine and improve posture, while allowing the foot and body to move naturally.
While the company has admitted there was no scientific evidence to support the claims, experts have said the shoes may even have a negative impact on foot health.
"Barefoot running has been touted as improving strength and balance, while promoting a more natural running style," a statement from the American Podiatric Medicine Association reads. "However, risks of barefoot running include a lack of protection, which may lead to injuries such as puncture wounds, and increased stress on the lower extremities."
Class action members who purchased a pair of FiveFingers shoes after March 2009 can submit valid claims forms to receive a partial refund of up to $94 per pair, as reported by the Huffington Post. Based on similar past settlements, however, Runner's World have said the payout per person is more likely to be between $20 and $50.
The court settlement also bars Vibram from making future claims about the health benefits of its shoes. "Vibram will not make ... any claims that FiveFingers footwear are effective in strengthening muscles or preventing injury unless that representation is true, non-misleading and is supported by competent and reliable scientific evidence," the federal settlement stated, according to Vox.