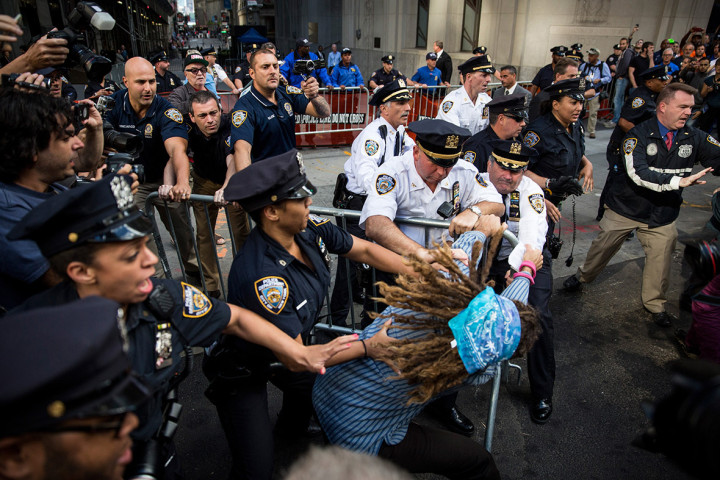 More than 100 demonstrators were arrested in New York City's financial district during the "Flood Wall Street" protests on 22 September, which are being made against what protesters say is the area's role in climate change.
Thousands of protesters, mainly dressed in blue to represent flooding as a result of climate change, marched through the financial region in Manhattan as part of the protest to hold "corporations and banks accountable for their role in creating the climate crisis".
The demonstrators closed off the roads as they made their way towards the New York Stock Exchange in time for the close of trading bell. Police started arresting protesters, as well as using pepper spray, as they tried to break through barricades set up to stop people from entering the stock exchange building. Around 102 protesters were arrested, mainly for disorderly conduct.
The Flood Wall Street protest took place after an estimated 300,000 people took part in the People's Climate March through New York. Tens of thousands of demonstrators took part in similar protests around the world in what was billed as the largest march for climate action of all time.
Both the Flood Wall Street and People's Climate March events took place ahead of the United Nation's climate summit, due to be held in New York on 23 September, 2014.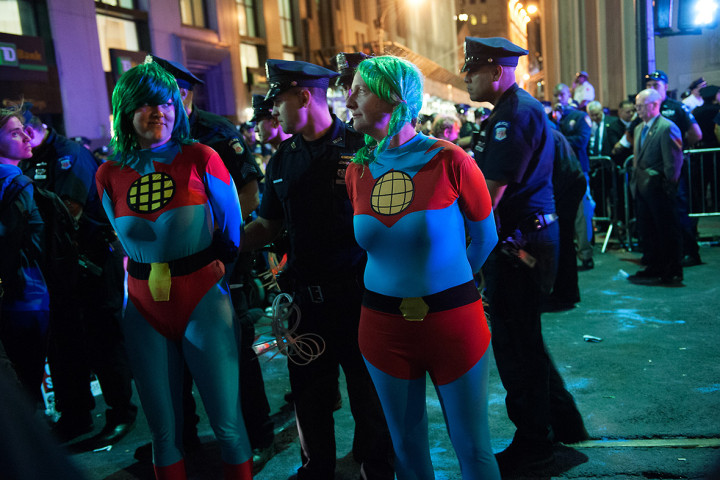 One environmental group, the Center for Biological Diversity, said its executive director Kieran Suckling was among those taken into custody.
"World leaders have failed all of us on the climate crisis, and frustration has hit a tipping point — not just for the environmental movement but for people around the globe," Suckling said.
One of the Flood Wall Street organisers, Michael Premo, explained that many of those taking part in the protest were also involved in the Occupy Wall Street movement, the anti-capitalist group who rose to prominecne in the same area towards the end of 2011.
Premo added: "Just like the financial crisis, the climate crisis is a product of an underlying political crisis. It's the result of policies that serve the short-sighted interests of the few over the survival and wellbeing of everyone."
Local politicians, including councilmen Ydanis Rodriguez and Jumaane Williams, were among those who took part in the protests.
"People are saying the issue isn't that important, but I think that's a fallacy," said Williams. "You should make money, but not at the expense of hurting people."
The group said they plan to hold a second demonstration in the same area on 23 September.