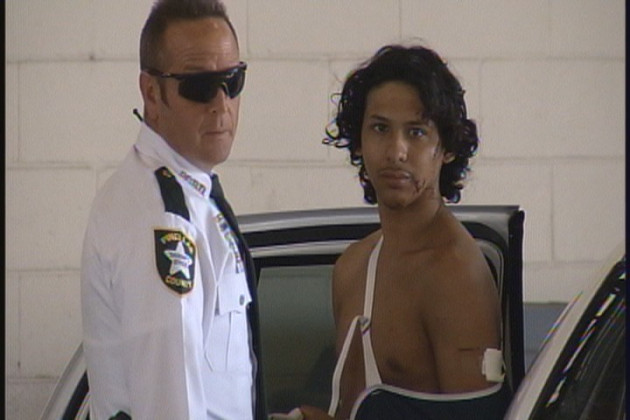 A Florida man fleeing a traffic stop was attacked by an alligator, police have revealed.
Bryan Zuniga was running away from deputies who had pulled him over for driving erratically when he ran straight into the jaws of the reptile
According to the Pinellas County Sheriff's Office, the 20-year-old suspect stopped the vehicle, jumped out of the passenger side and broke through a fence to avoid being taken into custody.
He is believed to have reached a water treatment plant where he was attacked by the alligator.
Officers found Zuniga at a nearby hospital hours later where he was being treated for multiple puncture wounds to his face, arm and armpit area.
Following his release from hospital, he was arrested and taken to Pinellas county jail.
Zuniga is facing charges of fleeing a police officer, driving with a suspended or revoked licence, resisting an officer and damage to property. He is being held on a $6,300 bond.
One neighbour said of Zuniga: "I always see him walking around. He's like a cool dude. I don't really know him or anything but he's my neighbour. I don't want this dude getting eaten up by a gator."
The Florida Fish and Wildlife Commission has opened an investigation.